Sigma Theta Tau Gamma Rho Chapter
Sigma Theta Tau International Honor Society of Nursing provides leadership and scholarship in practice, education and research to enhance the health of all people. We support the learning and professional development of our members, who strive to improve nursing care worldwide.
Sigma Theta Tau International History
Sigma Theta Ta International (Sigma) was founded in 1922 by six nursing students at Indiana University. Modern nursing was barely 20 years old when Mary Tolle, Edith Moore, Marie Hippensteel, Dorothy Garrigus, Elizabeth Russell and Elizabeth McWilliams met to found a society to advance the status of nursing as a profession.
The founders recognized the value of scholarship and the importance of excellence in practice. With the full idealism of women forging pathways of change in the 1920s, they wanted to build a framework to encourage future leaders to effectively improve health care.

In 1936, Sigma was the first organization in the United States to fund nursing research. Since then, the society has underwritten more than 250 small or "seed" grants, which often begin a whole body of research. These peer-reviewed grants are often the first recognition of potent concepts that eventually lead to major, wide-scale research projects and innovation in the nursing profession.
Sigma Theta Tau Gamma Rho Chapter History
The Gamma Rho chapter was officially chartered by Sigma Theta Tau International on April 26, 1978. Maureen Niland, STT national treasurer, installed the officers and conducted the proceedings.
This celebration was the beginning of the University of Utah's chapter in the National Honor Society of Nursing. Fifteen members transferred from other chapters and 78 new members were inducted. College of Nursing Dean Madeline Leininger and the first chapter president, Joan Uhl, offered comments. Sister Francelyn Reeder, vice president of Gamma Rho, gave the closing remarks.
Chapter officers included Secretary Margaret Adamson, Treasurer Liz Close and Archivist Kay Carbol. Elizabeth Moses and Kathy McCance were the chapter's advisors. The nurses who founded our Gamma Rho Chapter were true nursing leaders.
Gamma Rho strives to honor the commitment of these leaders by following their example in the support of nursing leadership, scholarship, education and research.
STTI Gamma Rho Co-Presidents
Donate to STTI Gamma Rho Chapter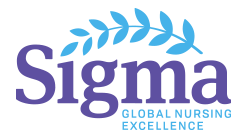 What's in it for me? A member's guide to STTI.