We Want to Hear From You!
The College of Nursing Alumni Association is proud of our alumni, and wants to share your success with our community. Submit an update about your life or notify us of an alumni death. Have a photo you'd like to include with your update or you prefer to submit your information another way? Call (801) 581-8919 or email your update to alumni@nurs.utah.edu.
What have your classmates been up to?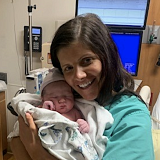 Cami Bearnson, DNP '17
Since I graduated in 2017 with my CNM/WHNP I have caught all 4 of my sisters and my own baby in 1 years time. One of my sisters (youngest sister) lived across the country in Virginia Beach and I was able to fly across the country and make it in the nick of time for her spontaneous delivery. Quite a miracle. Another sister I have now delivered two of her children. Many providers prefer not to take care of close friends or family members. I take value in providing them with the ultimate midwifery experience…..like everyone woman deserves!!! It was a great year and I honestly felt like I could retire after such amazing experiences but I am looking forward to my daughters and grandchildren. However they would like my assistance of course ;). And all the other women out there who are seeking an empowering experience. I feel blessed to be doing something I truly love and am passionate about as a career. Happy to be an alumni of a great school who truly enriched my life and taught me valuable skills to support women throughout their lifespan.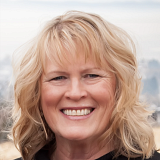 Nancy Madsen, MS '13
Widowed at 53 years of age, I knew I needed to figure out how to support myself the rest of my life. I decided to return to college as a nontraditional student where I completed an undergraduate degree at BYU Provo and a MS degree in Gerontology at the University of Utah. It is my master's degree and subsequent licensure as a social service worker that prepared me for my career as a Program Manager for the State of Utah/Division of Aging & Adult Services. In this position, I monitored and audited the National Family Caregiver Support Program (NFCSP) which is administered through local Area Agencies throughout the state. It has been my pleasure to work with and mentor approximately 60 case manager social workers as they work with family caregivers and older adults. I have also received certification in multiple evidence-based community caregiver and dementia-related curricula and presented at numerous national, state, and local conferences. Coming full circle, I have had wonderful opportunities to partner with the College of Nursing at the University of Utah on multiple grants and projects. Throughout my career, I have been passionate about advocating for older adults, as well as family caregivers of older adults and individuals with disabilities, and custodial grandparents caring for minor grandchildren. I am equally passionate about mentoring emerging professionals at the University level where I teach an upper division Adult Development & Aging course as an adjunct professor at BYU. With the population shift, I believe there are a myriad of opportunities in the years ahead for any student in any field to be successful if they keep their eye on the older adult population in their chosen career.
Eugena Baca Bergvall, BS '03
Graduated with a DNP from University of Maryland, Baltimore after graduating and remaining at the bedside as a critical care neurology, neurosurgery, and trauma nurse, starting at University of Utah Medical Center in 2002. Worked as a critical- care nurse at Landstuhl Medical Center in Germany as a civilian liaison during Operation Enduring Freedom for three years prior to moving to Bethesda, MD. Currently, at NIH supporting first in human research, cultivating nursing research, and supporting the NIH Clinical Center nursing department (NIH CCND) and the National Institutes of Neurological Disorders and Stroke (NINDS) developing a neuroscience nursing education program and an EBP Fellowship Program. Lead author for the AANN Neuroscience Core Curriculum 7th edition chapter on Epilepsy and the subject matter expert of the new AANN Epilepsy Certification. Contributing a chapter on emergency management of toxins in the NACNS AGCNS review book in publication. Presented podium and poster presentation on the Code Lavender initiative, Critical-Care Pain Observation Tool locally and nationally. Current passion is improving healthy work environment, decreasing burnout syndrome in healthcare, and championing evidenced-based practice for all healthcare clinicians.
Tammy Hadfield, MS '01
After graduation, I was stationed at Elmendorf AFB, Anchorage, Alaska were I received the PACAF Advanced Nurse Practitioner of the Year award in 2002 and the AWHONN Armed Forces District Admiral Duerke Award for Best Clinical Paper in 2002. I served as the chief of the Women's Health deployment team until separating from the Air Force as a major and receiving numerous awards including the Meritorious Service Medal. I opened my own independent nurse practitioner medical practice in 2008 in Meridian, Idaho specializing in hormone management, lichen sclerosis treatment, PCOS, hypothyroidism and sexual dysfunction.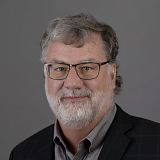 Larry Garrett, BS '93
I come from a blue-collar background and had an opportunity to choose a career in nursing. What I remember from my time at the College of Nursing is the closeness of students. We developed close friendships and were supportive of one another. The faculty and instructors were always willing to do whatever they could to help us get through school. As a returning faculty member, I still sense that same energetic support and care amongst students and faculty!
David Kutzler, MS '80
I graduated from the midwifery in the 1980's. I was a practicing certified nurse midwife and have since retired. As a male, midwifery is not something you usually think of as a career path. I became interested in midwifery as a senior in nursing school when a speaker came and talked about midwifery. I had originally planned on traditional paths, such as ER or OR, but I changed to midwifery. I really enjoyed my time in my OB rotation and it was very memorable. I could deliver babies. I worked as an ICU nurse in Montana. I landed on the University of Utah for my midwifery program because it was the only program at the time west of the Mississippi. I interviewed, applied, and I was very fortunate to be selected because at the time there were only 12 openings each year and there were quite a few applicants. The program was a great experience. The one memory that stands out to me is that everyone was so accepting to me as a male in a female prominent career, especially in midwifery. It didn't make a difference that I was a male!
Susan Cameron, BS '65, MS '67
When I graduated with my master's, I went right into teaching in the psych program and did that the rest of my career. I love the friendships I developed as a faculty member. One of my friends just passed away last year—Helen Rowlands. I am still missing her. She was one of the best bedside nurses that I have ever encountered. I had so much respect for the way she worked in the community.
Susan Holt, BS '65
Since I was 6 years old and my mom made me a pinafore decorated with a red cross to indicate being a nurse, I have never waivered in my first - desire to become a nurse, and second in my choice of serving in this profession. I have used the knowledge I gained in my school years and my clinical experience as a resource in raising my 6 children and helping countless neighbors and friends with medical concerns as well as working in several hospitals. I even worked in a dental office - not as a nurse - but my training came in handy there also. I now have a daughter who graduated as a Registered nurse at the age of 42 and two sons who work in medical professions so I feel I have passed on my love of the nursing profession.
Nancy Drobay, BS '62
Initially, I didn't want a career in nursing—I wanted a career in veterinary medicine. Back in the day, girls weren't allowed to become veterinarians, so I decided to go to nursing school. When I was doing my undergraduate, I had a friend named Mary. Her mom had been a member of the Fine U Sorority, but that group was dwindling and she was distressed about it. We all ended up joining. We built this sorority up and had plenty of people for rush. However, once we started clinicals we were very busy. When I started working as a nurse, the University of Hospital was down where the City Council building is now. We had one bathroom for all of the patients and doctors. We didn't have any air conditioning. There was no pipe-in oxygen and we had to use big cylinders. The elevators would stop a couple of inches below or above each floor. We didn't know any different and that's how things were in those days. In September of 1965, I was the head nurse. ICU's were coming into fashion at that point. I helped set up the first ICU in the new hospital. We took a four-bed ward and took one bed out and set up a nurse's station. That was when monitors first came in. It was pretty primitive. During my time at the ICU, I developed an interest in cardiovascular disease. I decided to go to graduate school and study it. I went back to the Catholic University of America in Washington DC. After that, I came back to the University of Utah hospital. I was then the clinical specialist and evening supervisor for a few years. I also started the Nurse Practitioner certificate program. After that I went off to California and I was the first family nurse practitioner in the San Bernardino Valley. I pioneered that position and had clinics in Barstow and Victor. On Fridays, we would travel to places up in the mountains to care for people. Then, I came back to Utah because they were starting the nurse practitioner program on the master's level. Because I already had a master's, I became faculty. I was the only nurse practitioner on faculty, the first nurse practitioner at the student health service, and the only one that knew what kinds of things we did and what we faced. I stayed in this position for roughly 20 years.
Carol Egli Davis, BS '61, MS '65
I absolutely love the University of Utah College of Nursing! First as a baccalaureate and master's degree graduate, and second as a faculty member for twenty some years. There has always been an esprit de corps atmosphere in the College which made teaching and learning the art and science of nursing exciting and yearning for more. My children, who I would take with me on weekends while I finished grading term papers, etc., were always so excited to be going to "The College of The Nursing"! In 1984, my daughter also became a graduate of "The Nursing".
One very humorous memory I have of the College centers around a group of us faculty, who, at the time, taught Sophomore Nursing students. The year was about 1968-1969, and we had just moved into the brand spanking new College building! Well, aspiring ballet students that we were (or at least in our heads), we began having ballet lessons in the large assembly classroom on the second floor. Another professional nurse affiliated with the College was our teacher. The chalk tray was our barre, and we lined up one behind the other. So, every Wed, after hours, we would quickly don our warmup ballet outfits, head for the classroom, line up behind one another and use the chalk tray as our barre. We had an hour's lessons of laughs, good humor, and sometimes ballet moves.
Help Progress, Give Today
You can help the College of Nursing continue to progress with even a small contribution.