One U for Family Caregivers
For nearly 20 years, College of Nursing researchers, clinicians, and educators have been leading the way in supporting caregivers. The College is uniquely positioned to lead an interdisciplinary effort to revolutionize care and inform new methods of support for patients and their caregivers.

A growing, but largely unseen, group of family caregivers is quietly providing the healthcare many Americans receive. Their unpaid work is valued at $470 billion nationally ($4.2 billion in Utah) and often comes at the expense of caregivers health. The Family Caregiving Collaborative supports the advancement of person- and family-centered care, where patients and caregivers define their "family" and determine how they will participate in care and decision-making.
Through Education: Empower our future healthcare workforce to recognize the critical role of family caregivers.
Through Research and Practice: Test new approaches that support patient AND family caregiver health and well-being.
Through Outreach: Partner with community stakeholders and policy makers to improve the lives of family caregivers and those they care for.
The Collaborative's mission is to help create a future where caregivers of all ages, races, ethnicities, and gender are seen, heard, understood, valued, connected, and supported.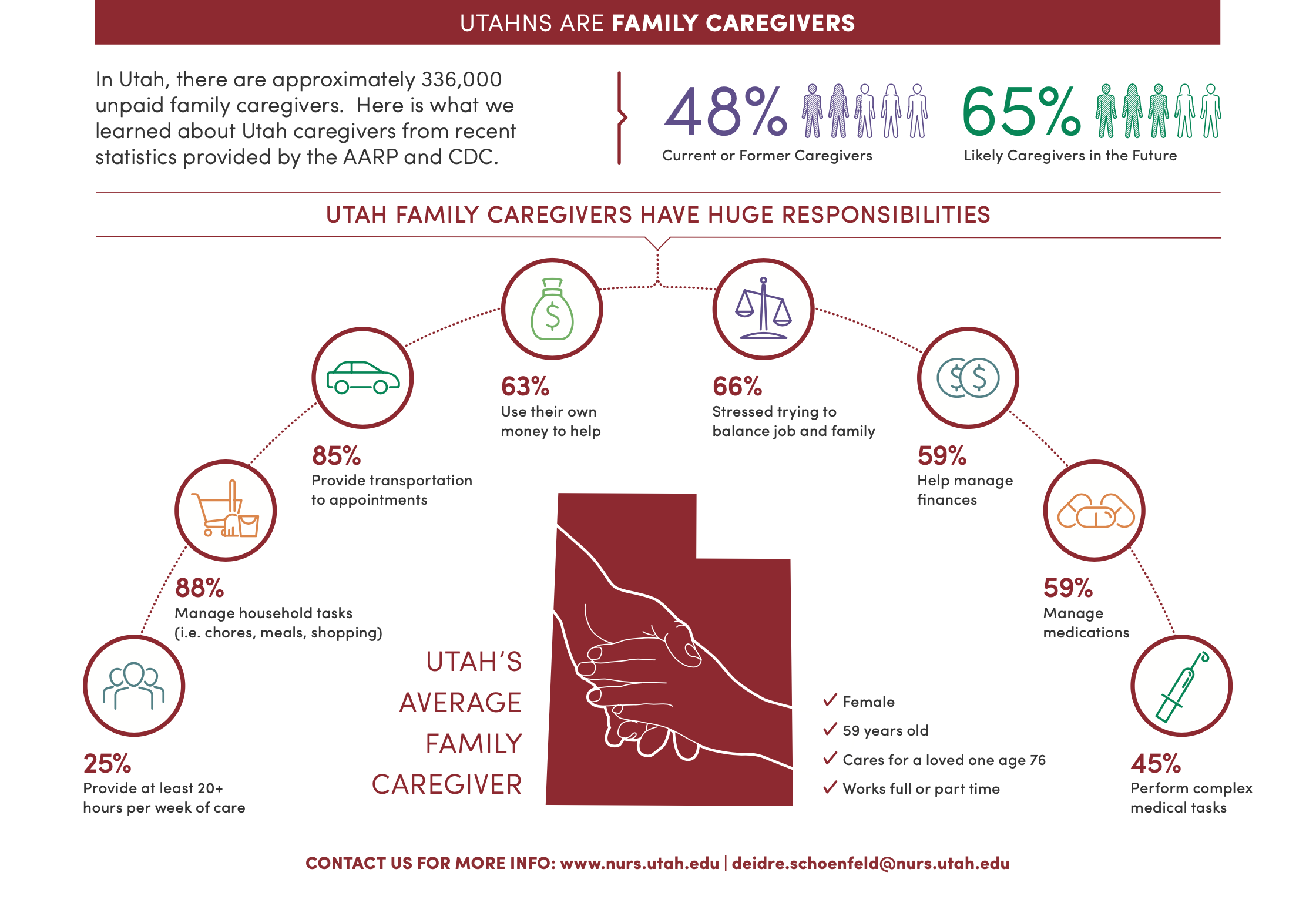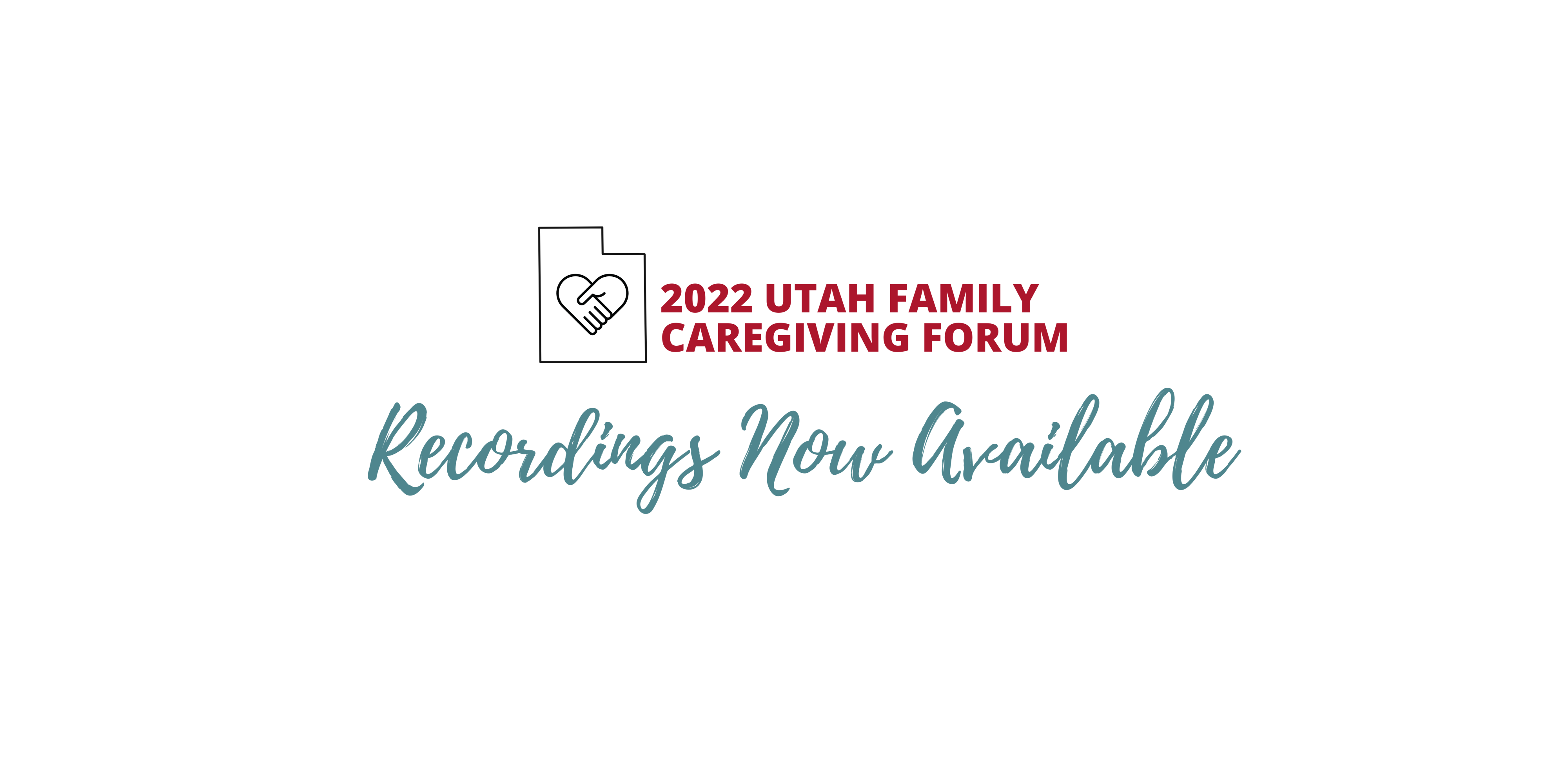 The first annual Utah Family Caregiving Forum (11/8/22) brought together over 90 caregivers, researchers, advocates, community/service providers, and healthcare professionals to learn about Utah specific data related to family caregivers and engage in discussion related to current and proposed family caregiver policies in Utah.  A recording of the event is available below for those who were unable to attend. 
Conversations with Caregiving Scientists: Virtual Speaker Series
Caregiving Research at the National Alliance for Caregiving: Priorities and Opportunities
Presenter: Fawn Cothran, PhD, RN, GCNS-BC, FGSA, National Alliance for Caregiving (NAC)
Date: February 22, 2023 | 10:00am-11:00am
An Interactive Panel Discussion: Using Community Advisory Boards and Community Engagement to Enhance Caregiving Research and Caregiving Advocacy
Presenters: Rebecca Utz, PhD, and Debra Scammon, PhD, Family Caregiving Collaborative
Date: March 29, 2023 | 10:00am-11:00am
The Long Road to Implementation of Caregiver Support Programs: The Case of the COPE Program
Presenter: Laura Gitlin, PhD, FGSA, FAAN, Drexel University
Date: April 5, 2023 | 10:00am-11:00am
Family Caregiving Collaborative Reports
Caregiving Scholars Across Campus
FCC Financial Support for Caregiving Scholars
Current Studies Recruiting Family Caregiver Participants
Time for Living & Caring
Are you living with someone who has dementia? Join our online research study to share your experiences and ideas with others. Earn up to $250 in gift cards or a new Chromebook. Must be 18 at least 18 and able to read and follow instructions in English. Contact us for more information at TLC@utah.edu. Visit our website.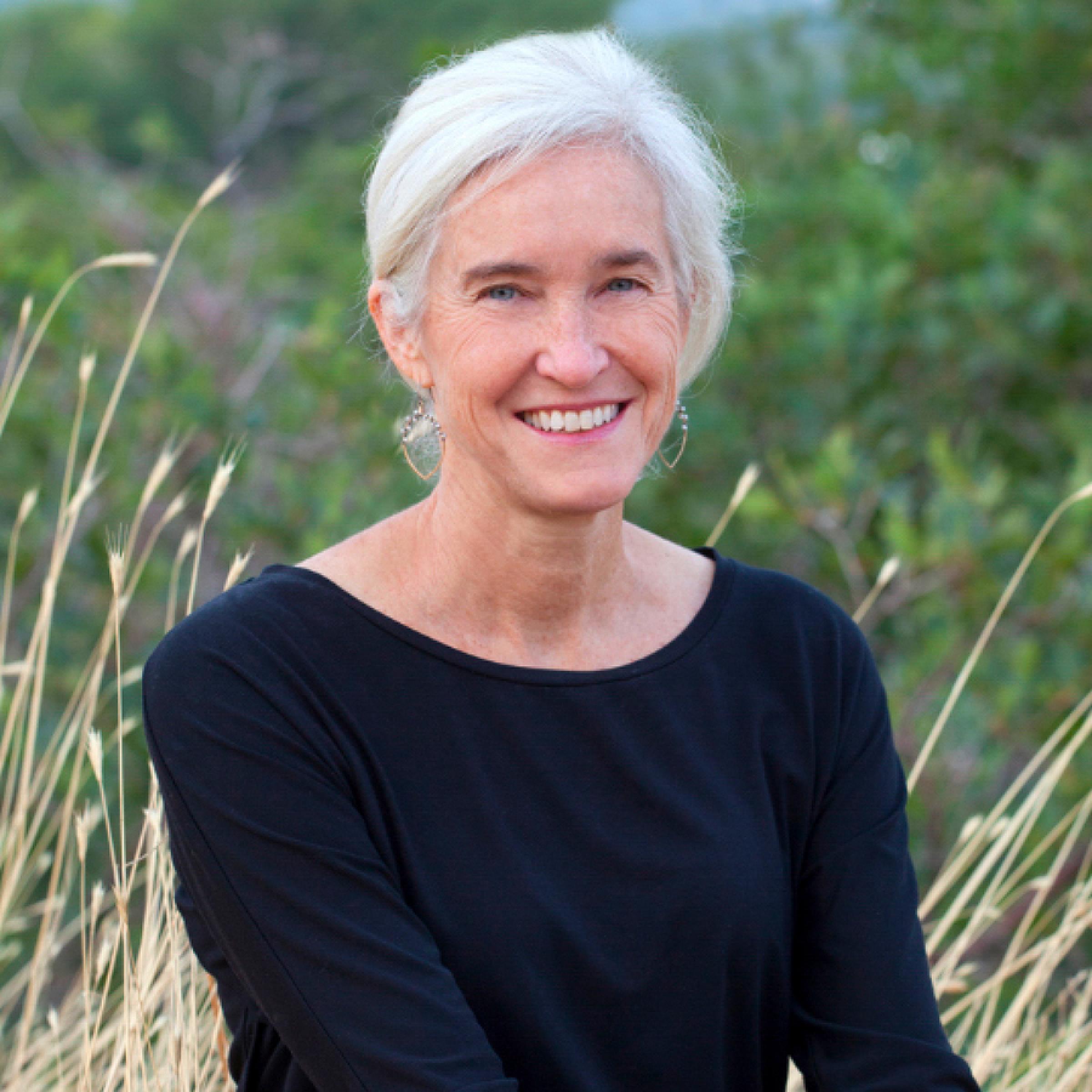 Meet the Family Caregiving Collaborative Director