One U for Family Caregivers
For nearly 20 years, College of Nursing researchers, clinicians, and educators have been leading the way in supporting caregivers. The College is uniquely positioned to lead an interdisciplinary effort to revolutionize care and inform new methods of support for patients and their caregivers.
A growing, but largely unseen, group of family caregivers is quietly providing the healthcare many Americans receive. Their unpaid work is valued at $470 billion nationally ($4.2 billion in Utah) and often comes at the expense of caregivers health. The Family Caregiving Collaborative supports the advancement of person- and family-centered care, where patients and caregivers define their "family" and determine how they will participate in care and decision-making.
Through Education: Empower our future healthcare workforce to recognize the critical role of family caregivers.
Through Research and Practice: Test new approaches that support patient AND family caregiver health and well-being.
Through Outreach: Partner with community stakeholders and policy makers to improve the lives of family caregivers and those they care for.
The Collaborative's mission is to help create a future where caregivers of all ages, races, ethnicities, and gender are seen, heard, understood, valued, connected, and supported.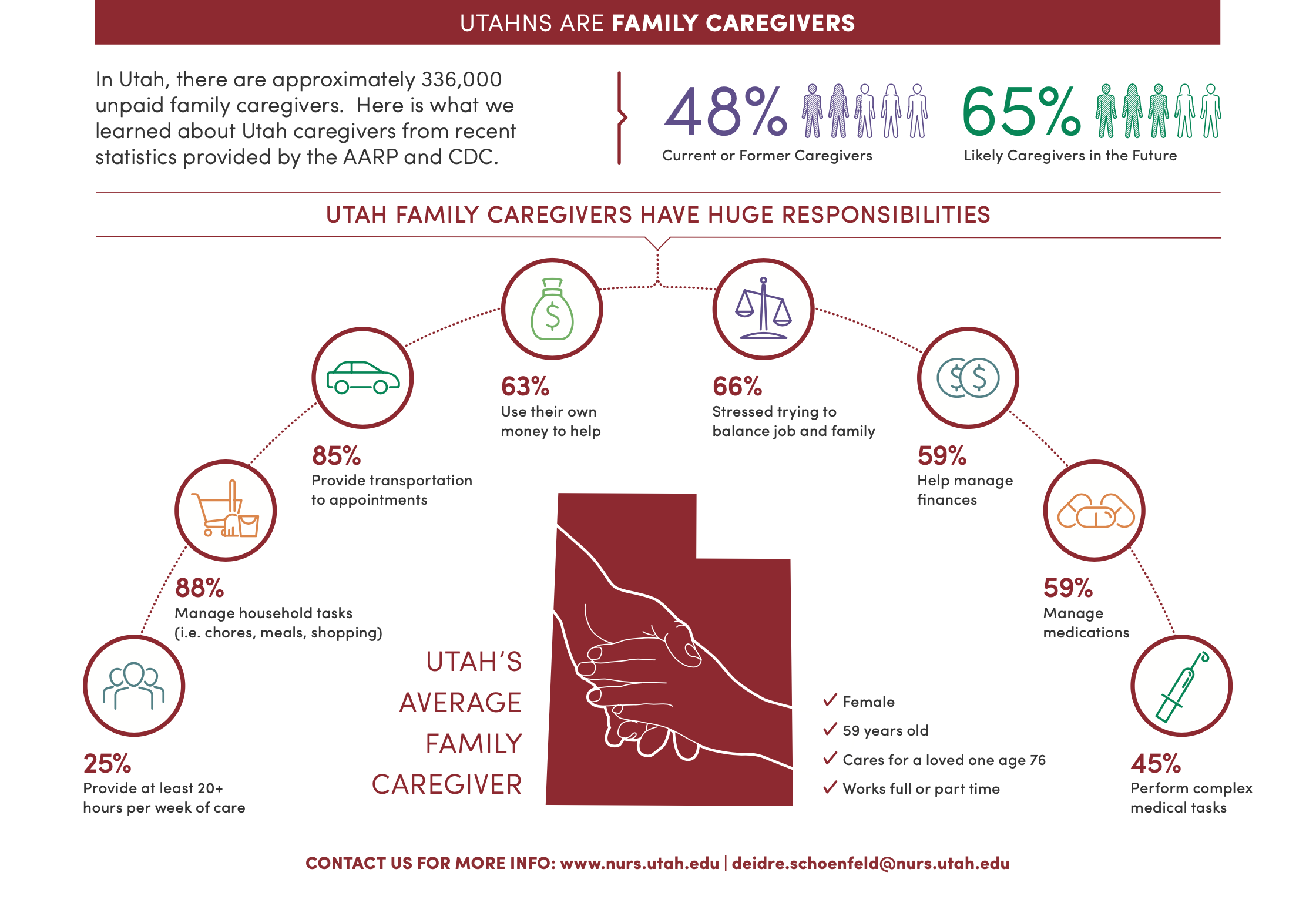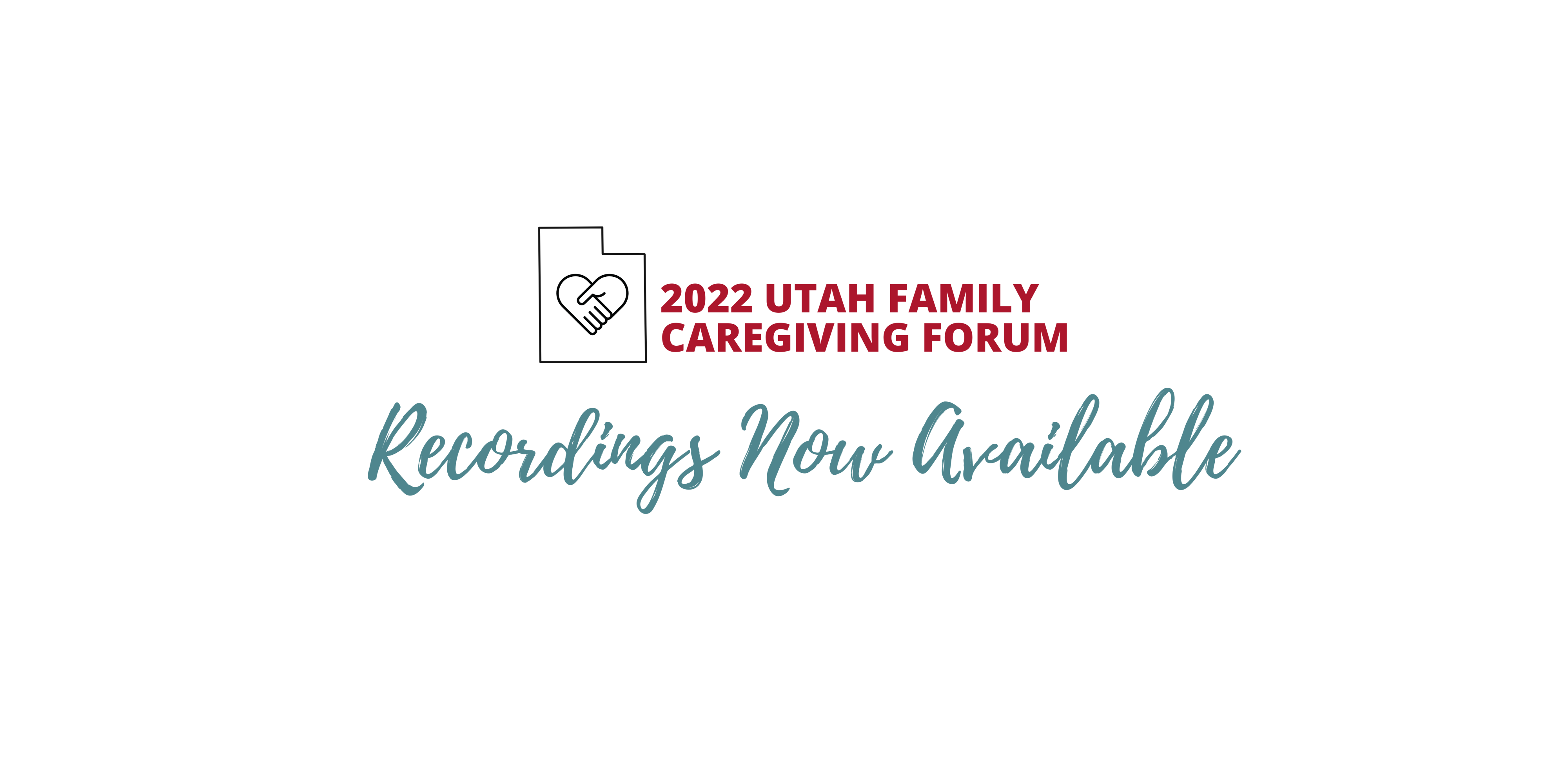 The first annual Utah Family Caregiving Forum (11/8/22) brought together over 90 caregivers, researchers, advocates, community/service providers, and healthcare professionals to learn about Utah specific data related to family caregivers and engage in discussion related to current and proposed family caregiver policies in Utah.  A recording of the event is available below for those who were unable to attend. 
Conversations with Caregiving Scientists Speaker Series (Virtual Events)
Please check back late Summer 2022 for our 2022-2023 speakers.
Carrie Henning-Smith, PhD, MPH, MSW
Wednesday, September 28, 2022
Time: 10:00 AM - 11:00 AM
Title: Unpaid Caregiving in Rural Areas: Unique Challenges and Opportunities
Carrie Henning-Smith, PhD, MPH, MSW is an Associate Professor in the Division of Health Policy and Management, University of Minnesota School of Public Health, Deputy Director of the University of Minnesota Rural Health Research Center and University of Minnesota Rural Health Program, and Director of Graduate Studies for the Health Equity Minor at the School of Public Health. She is the current chair of the Journal of Rural Health editorial board and is an Associate Editor at the Journal of Applied Gerontology and the Journal of Rural Mental Health. Her work focuses on health equity for rural residents, with particular attention to older adults and social well-being. Dr. Henning-Smith holds a BA in international relations and gender studies from Claremont McKenna College; master's degrees in public health and social work, along with a certificate in gerontology from the University of Michigan; and a PhD in health services research with a minor in demography from the University of Minnesota.
Click HERE for presentation Powerpoint.
J. Nicholas Dionne-Odom, PhD, RN, ACHPN, FAAN
Wednesday, October 5, 2022
Time: 10:00 AM - 12:00 PM
Title: 3 Ways My Thinking has Changed About Designing Decision Support for Family Caregivers
Dr. J. Nicholas Dionne-Odom, PhD, RN, ACHPN, FAAN is an Assistant Professor in the School of Nursing at the University of Alabama at Birmingham (UAB) and Co-Director of Caregiver and Bereavement Support Services in the UAB Center for Palliative and Supportive Care. He is also Co-lead of the Palliative Care Research Cooperative Group's Caregiver Core. Dr. Dionne-Odom's research focuses on the development, testing, and implementation of early palliative care, lay navigator-led coaching interventions to enhance the coping and decision support skills of family caregivers of care recipients with advanced cancer and heart failure, particularly for under-resourced African American/Black and rural-dwelling family caregivers. Dr. Dionne-Odom is currently funded by the National Cancer Institute, the Cambia Health Foundation, and the Gordon and Betty Moore Foundation.
Click HERE for presentation Powerpoint.
Jennifer Beebe-Dimmer, PhD, MPH
Wednesday, November 16, 2022
Time: 10:00 AM - 11:00 AM
Title: The Detroit Research on Cancer Survivors (ROCS) Cohort Study: Explaining Poorer Outcomes Among African-American Cancer Survivors and their Caregivers
Dr. Jennifer Beebe-Dimmer, PhD, MPH is a Professor of Oncology at the Wayne State University School of Medicine. She is both Program Leader of Population Studies and Disparities Research and Scientific Director of the Epidemiology Research Core at the Barbara Ann Karmanos Cancer Institute. Her research program broadly addresses cancer health disparities. She is the Co-Principal investigator of the Detroit ROCS study and has several other funded grants focused on addressing the contribution of germline genetic variation to early-onset and hereditary prostate and breast cancer.
Click HERE for presentation Powerpoint.
Katherine Ornstein, PhD, MPH
Wednesday, December 7, 2022
Time: 10:00 AM - 11:00 AM
Location: College of Nursing, Room 2600 (encourage in-person but virtual option available)
Title: The Use of Administrative Data to Enhance Caregiver Research: Challenges, Considerations, and Future Directions
Katherine Ornstein, PhD, MPH, is an epidemiologist who recently joined the faculty at Johns Hopkins University where she is the Director of the Center for Equity in Aging in the School of Nursing. She also holds an adjunct appointment in the Department of Geriatrics and Palliative Medicine at the Icahn School of Medicine at Mount Sinai. Dr. Ornstein currently leads several NIH, CDC and foundation funded research projects focused on: the caregiving experience for persons with dementia and other serious illnesses; social determinants of homebound status; home-based clinical care; the use of community health workers in home-based primary care; and frailty and aging among World Trade Center first responders. Dr. Ornstein received her B.A. from Duke University, her M.P.H. from UNC Chapel Hill, and a Ph.D. in epidemiology from Columbia University.
Family Caregiving Collaborative Reports
Caregiving Scholars
FCC Financial Support for Caregiving Scholars
Caregiving Scholars Across Campus
College of Nursing:
Nancy Allen, Alycia Bristol, Michael Caserta, Margaret Clayton, Kristin Cloyes, Kara Dassel, Marla DeJong, Jacqueline Eaton, Lee Ellington, Sara Hart, Lauri Linder, Schola Matovu, Paula Meek, Deborah Morgan, Caroline Stephens, Katherine Supiano, Djin Tay, Gail Towsley, Andrea Wallace, Echo Warner
College of Health:
Anne Kirby, Alexandra Terrill
College of Social & Behavioral Science:
Marissa Diener, Claudia Geist, Robert Kent de Grey, Rebecca Utz
College of Social Work:
Sara Canham, Troy Andersen
School of Business:
Debra Scammon
School of Medicine:
Jorie Butler, Amy Cizik, Jessica Cohan, Claudia Delgado, Timothy Farrell, Liz Garcia-Leavitt, Jodi Linn, Melody Mickens, Mary Jo Pugh, Michelle Sorweid, Stephen Trapp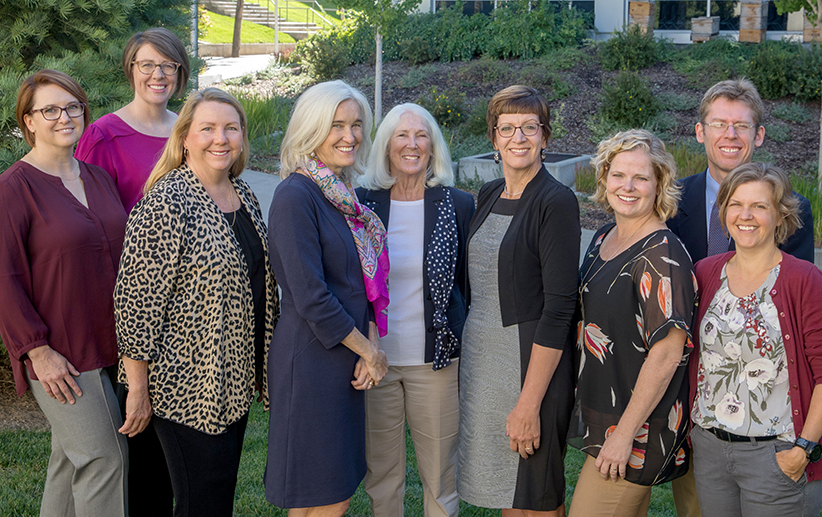 Studies Currently Recruiting Family Caregiver Participants:
Time for Living & Caring: Are you living with someone who has dementia? Join our online research study to share your experiences and ideas with others. Earn up to $250 in gift cards or a new Chromebook. Must be 18 at least 18 and able to read and follow instructions in English. Contact us for more information at TLC@utah.edu. Visit our website.
Family Caregiving Collaborative Sponsored Activities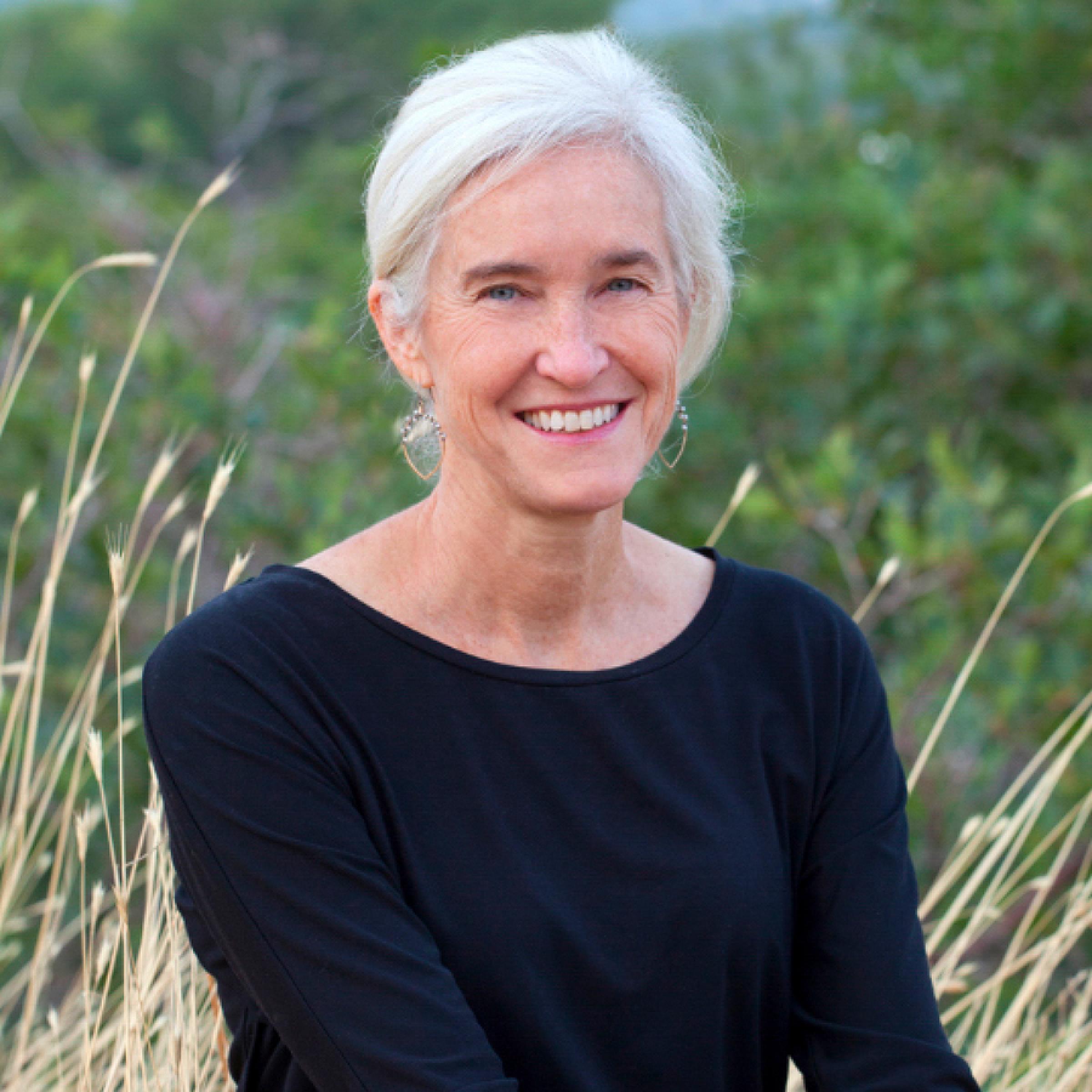 Meet the Family Caregiving Collaborative Director