One U for Family Caregivers
For nearly 20 years, College of Nursing researchers, clinicians, and educators have been leading the way in supporting caregivers. The College is uniquely positioned to lead an interdisciplinary effort to revolutionize care and inform new methods of support for patients and their caregivers.
A growing, but largely unseen, group of family caregivers is quietly providing the healthcare many Americans receive. Their unpaid work is valued at $470 billion nationally ($4.2 billion in Utah) and often comes at the expense of caregivers health. The Family Caregiving Collaborative supports the advancement of person- and family-centered care, where patients and caregivers define their "family" and determine how they will participate in care and decision-making.
Through Education: Empower our future healthcare workforce to recognize the critical role of family caregivers.
Through Research and Practice: Test new approaches that support patient AND family caregiver health and well-being.
Through Outreach: Partner with community stakeholders and policy makers to improve the lives of family caregivers and those they care for.
The Collaborative's mission is to help create a future where caregivers of all ages, races, ethnicities, and gender are seen, heard, understood, valued, connected, and supported.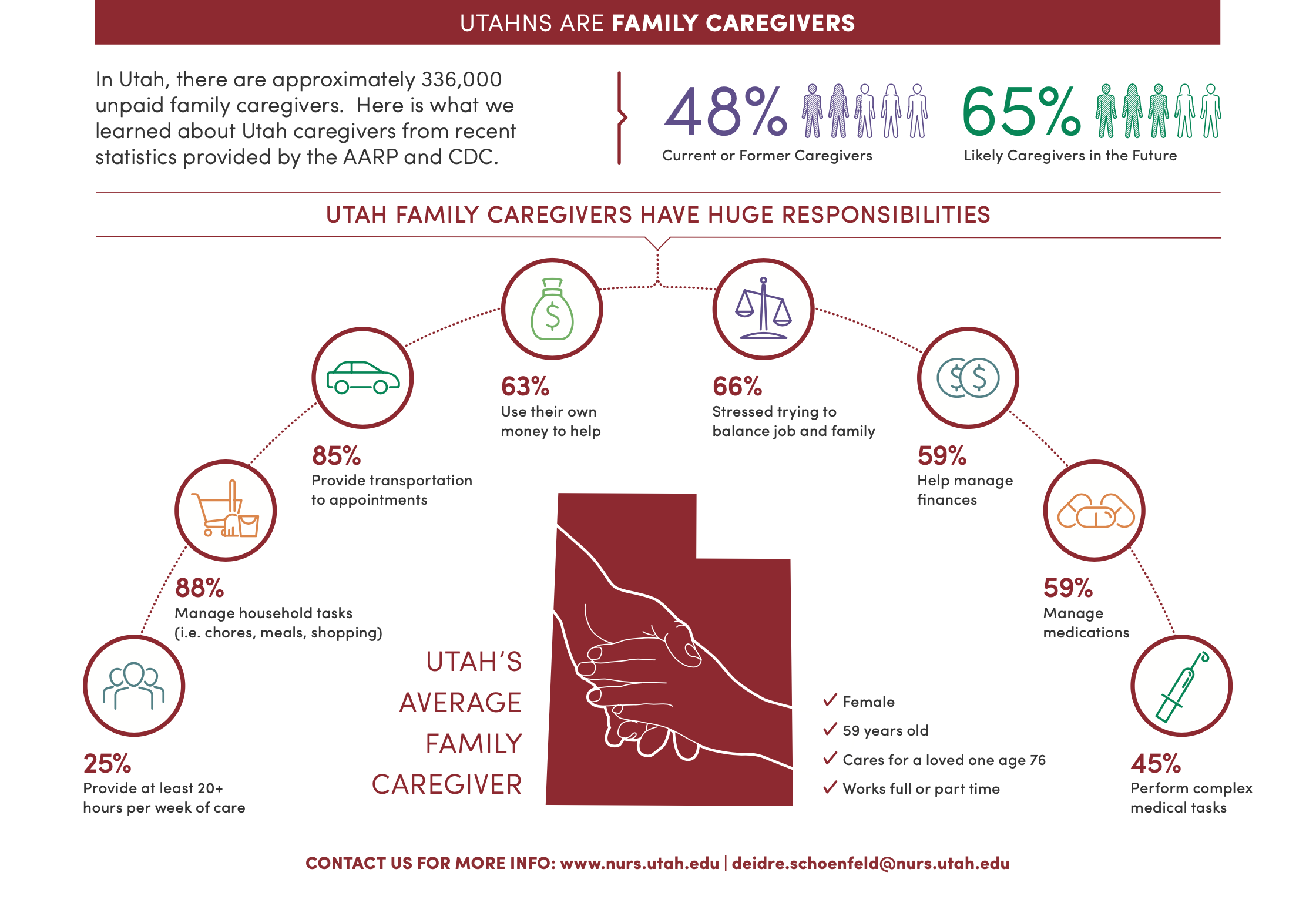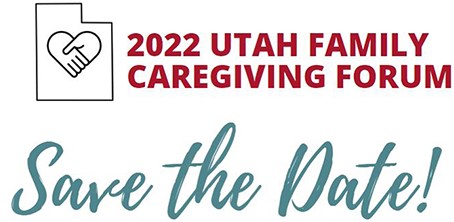 The first annual Utah Family Caregiving Forum will bring together caregivers, researchers, advocates, community/service providers, and healthcare professionals to learn about Utah specific data related to family caregivers and engage in discussion related to current and proposed family caregiver policies in Utah.
Date: Tuesday, November 8, 2022
Time: 2:30 - 5:30pm
Location: Cleone Peterson Eccles Alumni House – Free Parking – 155 Central Campus Drive 
Register here
Virtual option available, in-person attendance encouraged
Conversations with Caregiving Scientists Speaker Series (Virtual Events)
Please check back late Summer 2022 for our 2022-2023 speakers.
Wednesday, May 4, 2022
Time: 10:00 AM - 11:00 AM
Title: Parent Roles in Pediatric Shared Decision Making
Ellen Lipstein, MD, MPH is an associate professor of pediatrics at Cincinnatti Children's Hospital Medical Center. Her research focuses on understanding and improving the ways parents and patients with chronic conditions collaborate with healthcare providers to make treatment decisions. Specifically, she researchers on shared decision making and how it can be used to engage parents, children, and adolescents with chronic conditions in their care. Her current program of research uses both qualitative and quantitative methods to answer questions about how decisions are made, what help families need in making decision and how healthcare providers can better support families' decision making. Additionally, her team is involved in the development and testing of interventions aimed at addressing the decision making challenges.
Click HERE for presentation Powerpoint.
Erin Boulding, Ph.D. and Mary Jo Pugh, Ph.D., R.N.
Wednesday, April 27, 2022
Time: 10:00 AM - 11:00 AM
Title: Supporting Post-9/11 Veterans with TBI, Epilepsy, and Dementia and their Caregivers
Erin D. Bouldin is an epidemiologist and Assistant Professor in the Department of Internal Medicine at the University of Utah. Her research interests include family caregiving, cognitive decline, aging and geriatric care, and rural health. Mary Jo Pugh is a professor in the Department of Internal Medicine at the University of Utah. Integrating training as a Veteran, a nurse, and a developmental psychologist, Dr. Pugh developed a research program to examine the long-term sequelae and outcomes of military exposures on service members, veterans, their families and caregivers.
Click HERE for presentation Powerpoint.
Wednesday, March 30, 2022
Time: 10:00 AM - 11:00 AM
Title: Integrating Caregivers into Care: Processes and Stakeholder Considerations
Margaret Longacre, from Arcadia University, is the Chair of the Public Health Department and MPH Director as well as an Assistant Dean of Research for the College of Health Sciences. Her research interest revolves around informal or family caregiving, including understanding health system impacts. She is currently funded by the American Cancer Society for a project assessing the feasibility of an integrated-caregiver portal system with colleagues at Fox Chase Cancer Center. She has also been involved in collaboration with the National Alliance for Caregiving (NAC) for various projects, including a recent report on "Sandwich Generation Caregivers".
Click HERE for presentation Powerpoint.
Family Caregiving Collaborative Reports
Caregiving Scholars
FCC Financial Support for Caregiving Scholars
Caregiving Scholars Across Campus
College of Nursing:
Nancy Allen, Alycia Bristol, Michael Caserta, Margaret Clayton, Kristin Cloyes, Kara Dassel, Marla DeJong, Jacqueline Eaton, Lee Ellington, Sara Hart, Lauri Linder, Schola Matovu, Paula Meek, Deborah Morgan, Caroline Stephens, Katherine Supiano, Djin Tay, Gail Towsley, Andrea Wallace, Echo Warner
College of Health:
Anne Kirby, Alexandra Terrill
College of Social & Behavioral Science:
Marissa Diener, Claudia Geist, Robert Kent de Grey, Rebecca Utz
College of Social Work:
Sara Canham, Troy Andersen
School of Business:
Debra Scammon
School of Medicine:
Jorie Butler, Amy Cizik, Jessica Cohan, Claudia Delgado, Timothy Farrell, Liz Garcia-Leavitt, Jodi Linn, Melody Mickens, Mary Jo Pugh, Michelle Sorweid, Stephen Trapp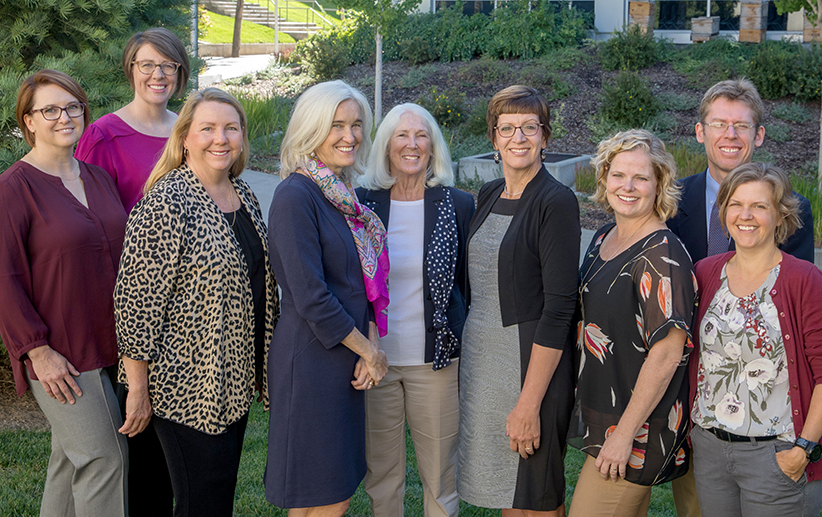 Studies Currently Recruiting Family Caregiver Participants:
Time for Living & Caring: Are you living with someone who has dementia? Join our online research study to share your experiences and ideas with others. Earn up to $250 in gift cards or a new Chromebook. Must be 18 at least 18 and able to read and follow instructions in English. Contact us for more information at TLC@utah.edu. Visit our website.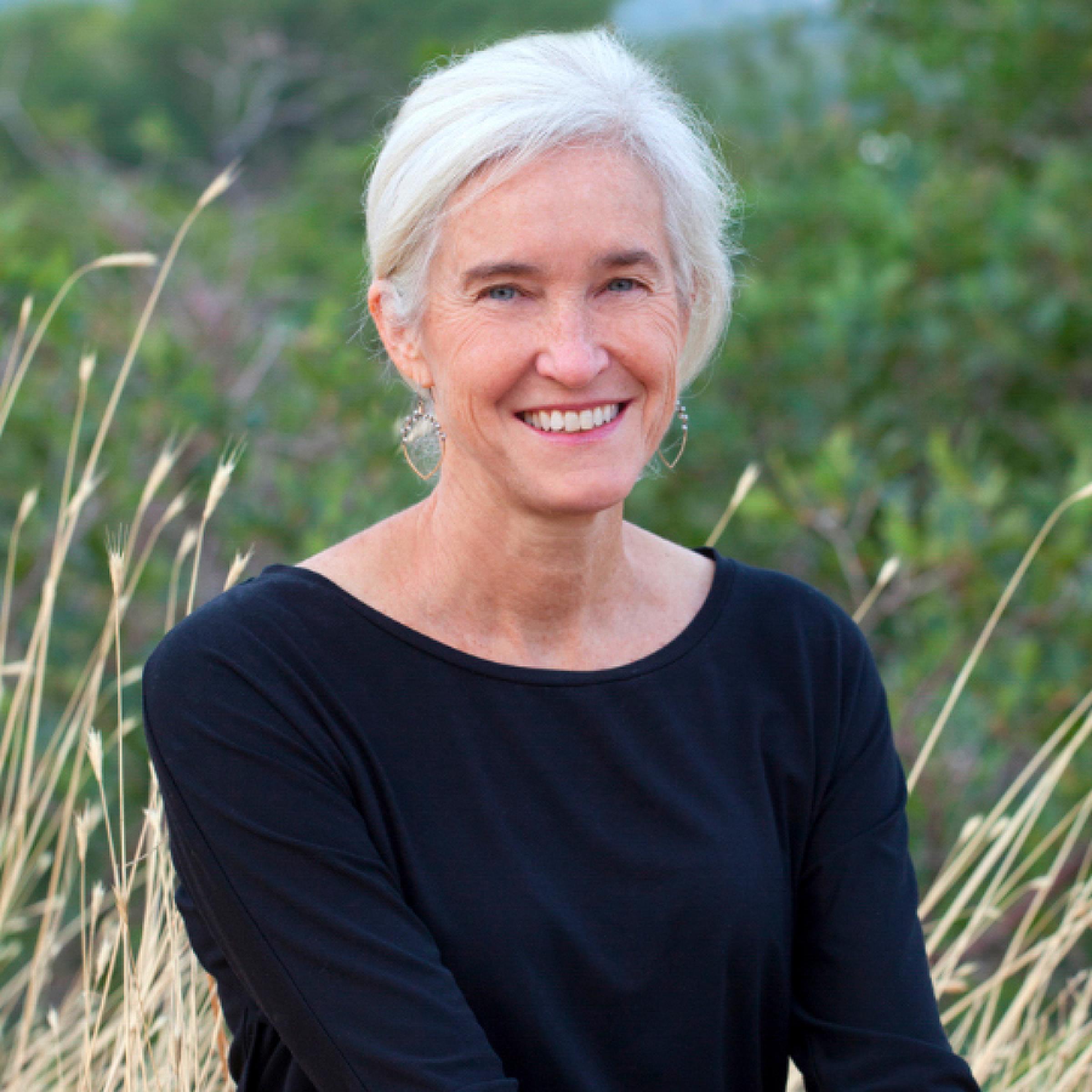 Meet the Family Caregiving Collaborative Director