Premier Space Dedicated to Nursing and Interdisciplinary Research
The Emma Eccles Jones Nursing Research Center (EEJNRC) was established in 2002 with a gift from the Emma Eccles Jones Foundation. The center was created to support faculty and teams to meet, incubate ideas, and develop and implement research proposals and other scholarly grants.
EEJNRC encompasses the fifth floor of the College of Nursing, providing flexible work space for individual and group projects. The dedicated space and the staff support teams provide a state of the art facility in which to conduct research and promote collegial interaction for the advancement of research and scholarly ideology.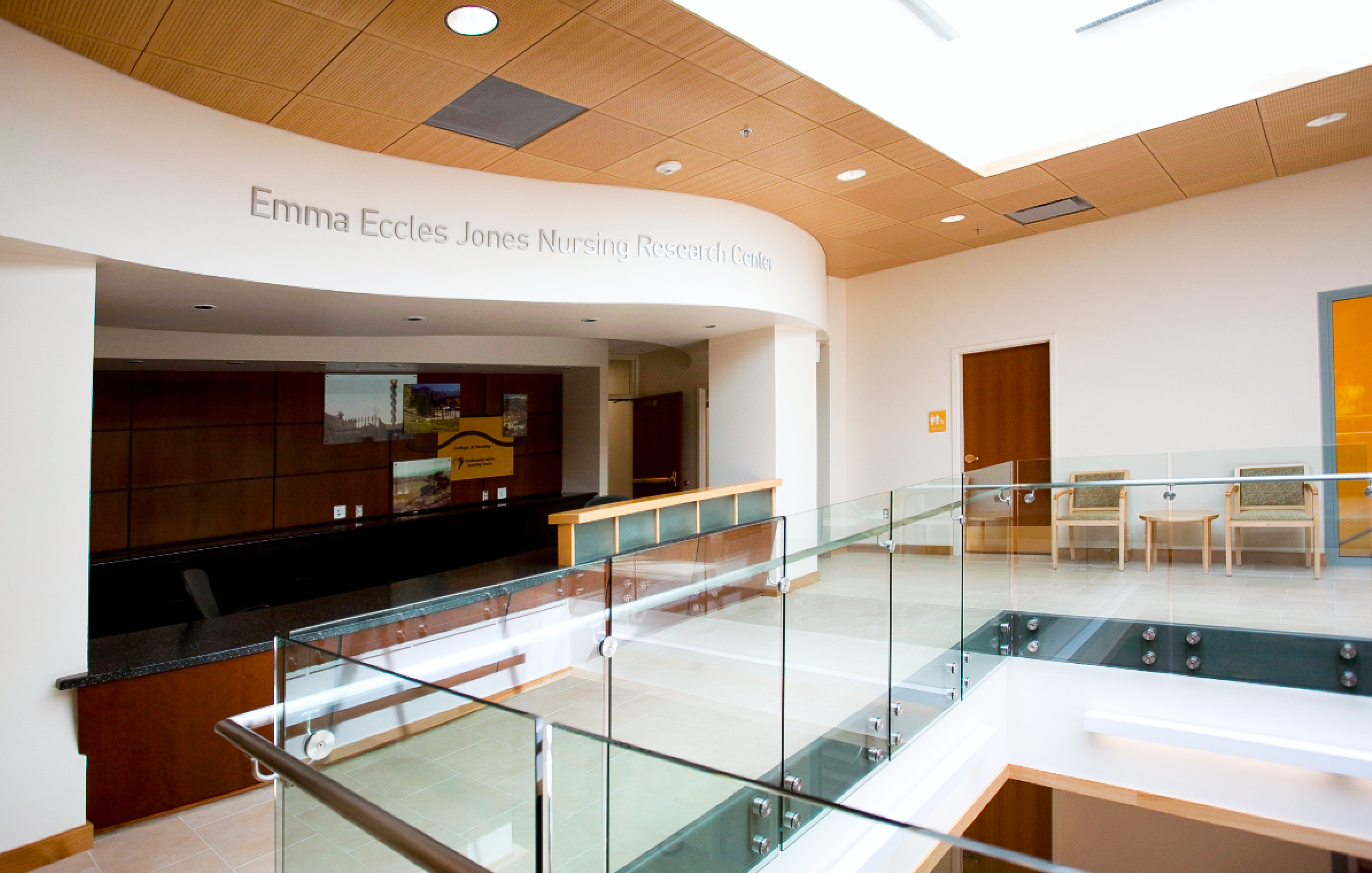 Top-Tier Support for Nursing Research
The research efforts of College of Nursing faculty are supported by a team of professionals who specialize in pre-award and post-award support of extramurally funded research. Our team offers an array of services to faculty, including project management of funding applications, budgeting support, assistance in managing forms and deadlines, funding searches, editing services, statistical consultations, and more.
Research Support Team
Our team consists of research administration professionals who specialize in the pre-and post-award support of extramurally funded research and education programs. Our professionals participate in local and national development opportunities to ensure current knowledge of the intricacies involved with research administration. We focus on the technical administration of these programs so our faculty can focus their efforts on their research.
Our services include:
Grant preparation: Our research associates are embedded in the RITe teams and work with individual faculty to help identify grant sources and ensure cohesive management of your proposal submission from inception to execution.
Grant management: Our post-award administrators ensure the administrative requirements of your program are met and will liaison with the sponsor and University central administration offices for the completion of required post-award documentation and budget management.
General administration: Our research administrators will assist you with human resources for your research staff, space assignment and management, and navigating other research administration management requirements at the University
Statistics Core
The Statistics Core provides comprehensive research design, data management, and statistical support to researchers through consultation and service delivery. Our statistical team is also embedded within our Research Innovation Teams (RITe) and works with individual faculty to ensure all aspects of statistics are brought to each project—from idea generation to publication. The Statistical Core aims to advance innovation in research by championing and deepening rigor and reproducibility.
Our services include:
Grant Preparation: Research design, sample and power calculations, statistical analysis plans
Research: Data collection, work flow management systems, participant recruitment and tracking systems, surveying
Statistical Analyses: T-test, Chi-square, growth curve modeling, structural equation modeling, linear and non-linear mixed models, logistic regression, finite mixture modeling, CHAID
Other: Instrument development, psychometrics, item response theory, data cleaning