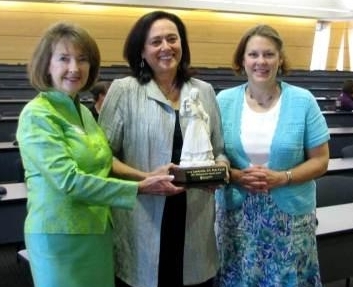 The late poet Ruth Whitman once said, "In every art beginners must start with models of those who have practiced the same art before them." A member of the Comanche Nation and the third of four generations of women in her family to become a nurse, Jana Lauderdale (PhD 1992), selected the doctoral program at the University of Utah College of Nursing for the opportunity it presented to learn the humanistic art and science of transcultural nursing under the mentorship of the theory's founder, Madeleine Leininger, as well as esteemed faculty in the field.
Two decades after completing her doctorate, Lauderdale is highly regarded for her knowledge about cultural competence standards in nursing research, practice and education, and for her advocacy on behalf of American Indians. The College of Nursing Alumni Association is celebrating her impact by honoring Lauderdale with the 2013 Distinguished Alumni Award.
Lauderdale says the strong mentorship she received from faculty along with the flexibility of the doctoral program, afforded her an opportunity to seek knowledge outside the core curriculum in fields such as anthropology, which "connected me with culture in a way I never understood before."
Today Lauderdale's cultural connectedness is evidenced by the major role she has played in the recruitment of American Indians into nursing as a way to decrease health disparities. She has forged partnerships locally, regionally and nationally to ensure that American Indian research projects are conducted in a culturally congruent manner, that research findings build tribal capacity and that community-based interventions improve American Indian health.
Besides being a sought-after consultant on research and educational training grants focusing on increasing diversity in the health care workforce, cultural impacts on health behavior and recruitment and retention of minority nursing students, Lauderdale is associate professor and assistant dean for diversity and inclusion at Vanderbilt University (for which she wrote her own job description). 
Lauderdale also values her time as a mentor to students and new research faculty. "You reach a point in your career that you finally become comfortable in your own skin," she says. "A lot of hard work and mentoring helped me reach that point. Dr. Joyceen Boyle, as great mentors do, saw something in me as a doctoral student at the College of Nursing. Over the course of two decades she has helped me define who I am as an American Indian nurse researcher. I think of her every time I 'pay it forward' with my doctoral students."
Dr. Lauderdale is currently an Associate Professor and Assistant Dean, Office of Culture and Diversity at Vanderbilt University School of Nursing.  Dr. Lauderdale received her BS and MS degrees from Texas Women's University, and her PhD in Transcultural Nursing from the University of Utah.
Distinguished Alumni Award
On Convocation Day, Friday May 3 faculty, staff, students and their guests, along with community members and friends of the College, were invited to attend the Alumni Association's Distinguished Alumni Award event where we honored Dr. Lauderdale for her career achievements and her work in advancing the nursing profession. Dr. Lauderdale presented onNursing: How We Care Matters. 
View past distinguished alumni award recipients.