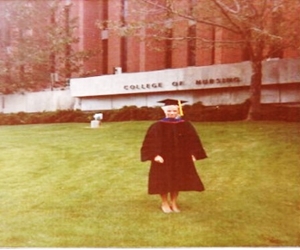 Jan Thompson was in the right place at the right time.
Her years at the University of Utah College of Nursing – and work with Hmong refugees in Salt Lake City -- set her on a path that has guided three decades as a nurse and a teacher.
"It would not have been happening in my life if I had not attended the University of Utah," says Thompson, recipient of the college's 2015 Distinguished Alumni Award. "I would have been a completely different person."
Thompson arrived in Utah in 1978, soon after receiving her nursing degree from the University of Iowa. One of the college's first Ph.D. students, she studied political science, sociology, anthropology and philosophy. At the same time, she was quickly drawn into then-transcultural nursing department chairman Peter Morley's work with a growing population of Southeast Asian refugees.
As a doctoral student, she conducted ethnographic interviews with displaced Hmong families, probing their initial trauma, flight and ultimate resettlement in the Salt Lake Valley to determine the impact on their health and medical care.
In 1981, Thompson successfully applied for a grant to fund Utah's first mutual assistance association to help the Hmong find housing, education and jobs.
"It was the transformation of my conscience about globalization and what was happening around the world, including the recognition that in a post-colonial world, places that were carved up by European colonizing powers began to shift in independence struggles and war, displacing large populations," she says.
 "Those experiences were the subject of my learning in the humanities and social sciences at the University of Utah," Thompson adds. "There was a lot of discussion and thinking going on about de-colonization and the effects of decolonization on peoples around the world. It was mind-expanding."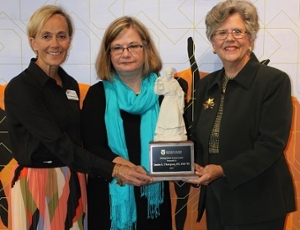 Her years at the U., and a specialization in transcultural nursing, continued when she took a teaching post at the University of Southern Maine. She continued to work with refugees of the Southeast Asian conflict -- this time Khmer refugees from Cambodia -- and helped establish a university-funded, nurse-managed clinic in a diverse, low-income Portland neighborhood.
In 2006, Thompson was named dean of the Faculty of Nursing at the University of New Brunswick, where she worked to boost indigenous or "first nation" student enrollment and retention and helped to establish another nurse-managed clinic for the underserved and homeless.
Along the way, Dr. Thompson has taught and researched critical social theory, health equity, feminist analysis and democratic professionalism in nursing.
"The relevance of that kind of education and that kind of engagement with populations really does speak to the connection between health equity and social justice in health," she says.
Rebecca Walsh
Communications Specialist, College of Nursing