From the time they crack their first textbook, nurses are trained to work in teams.
At any given moment, they know they will be working with a nutritionist, physical therapist, social worker or doctor. So who better than a nurse to figure out a way to break through the barriers between those health care workers?
Using a one-year, $182,000 grant from Utah Cluster Acceleration Partnerships, Assistant Clinical Professor Brenda Luther has designed a program meant to eliminate traditional education silos and help university graduates work together in a dynamic, constantly changing health care environment.
"Nurses always see ourselves as part of the team," Luther explains. "We know from the beginning that we're going to work with other professions. And here at the college, we know how to do that—teach in an interdisciplinary way. We know how to make a graduate of the business school feel comfortable in one of our classes."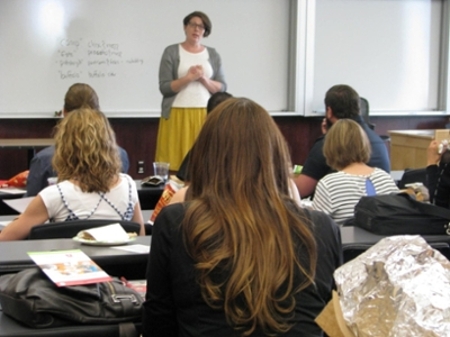 Using a curriculum Luther developed, the College of Nursing will start enrolling students in four certificate programs that build on the college's master's program in care management, which started in 2013. Charged with streamlining care and cutting costs by the federal Affordable Care Act, care managers track patients' disease progression and treatment, strategize team communication and identify redundancies. In May, the college's first class of 16 care management master's students graduated.
The state's goal in funding the development of such certificate programs is to respond to the needs of Utah businesses, including the health care industry, Luther says.
"As a university, we should always be thinking about how to get our graduates a job," she adds. "And these interdisciplinary teams are exploding across Utah. We have forward-thinking institutions in our state that want to engage in patient activation."
This fall, four one-year certificate tracks (in Care Management, Gerontology, Informatics and Nursing Education) will start. Each certificate requires a minimum of 15 credit hours, with most of the coursework and student interaction conducted online. The programs allow students to tailor classes and projects to their particular areas of study or interest.
As Luther's grant was ending June 30, College of Nursing faculty pitched the programs to a group of about 30 inquiring students from around campus.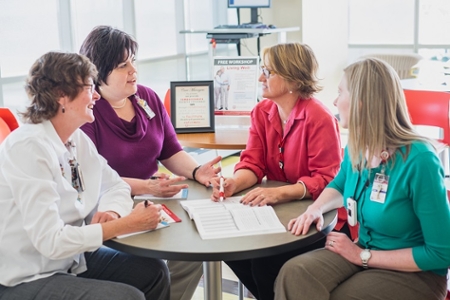 Assistant Research Professor Jackie Eaton told students at a June 29 information session the certificate is a good way to "stand out from the crowd. Employers are looking for people with gerontology expertise."
For others, interdisciplinary certificates can be a pathway to a graduate program. Many certificate students end up pursuing an advanced degree.
"It can be a good way to test the waters if you want a master's degree," said Associate Professor Kathie Supiano.
Nursing student Suzanne Stradling went to Nursing Informatics Associate Professor Kathy Sward's session. A longtime clinical research coordinator with a master's degree in economics, Stradling said she wants to complement her current career while simultaneously preparing for future changes in health care.
"I already work with interdisciplinary teams. That's the unique perspective I bring to the table," Stradling said. "But I'm at a crossroads, and I'm trying to think ahead. 
"Besides, I want to be doing research myself."
Rebecca Walsh
Rebecca Walsh is the communications specialist for the College of Nursing. (801) 581-4991, rebecca.walsh@nurs.utah.edu.