For all the talk of personalized genetic testing and precision medicine, much of cancer research is focused on aggregating "big data."
But what about the individual patient's reaction to their latest round of chemo or radiation? What can patient symptoms tell us about the care we provide?
College of Nursing Distinguished Professor Kathi Mooney brought Vice President Joe Biden's "Cancer Moonshot" listening tour back to the ground last week when she reminded the government leaders and scientists gathered at Huntsman Cancer Institute Feb. 26 that cancer research can be about more than stacks of gene research.
Responding to patient symptoms is not incompatible with sharing genome maps and family history databases, Mooney told Biden. Rather, it's an intrinsic part of understanding what works best in cancer treatment.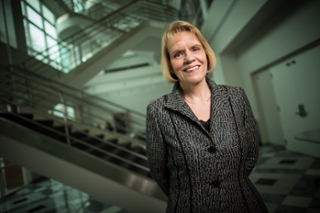 "Until very recently, our health records didn't capture the patient experience at all," Mooney said. "We have been missing our biggest partner – understanding their symptoms and how their quality of life is affected."
Along with Professor Susan Beck, Mooney has developed an automated, telephone-based Symptom Care at Home (SCH) system that helps cancer patients report and manage their symptoms once they leave the clinic or hospital. For example, patients who report severe nausea are prompted with ways to treat their feelings of sickness – from avoiding certain foods to which fluids to drink. The system also notifies each patient's nurse or doctor so they can follow up.
Of patients who reported severe nausea, Mooney said, the automated coaching system helped diminish bad symptom days by two-thirds.
"Most people are not here [at the Huntsman Cancer Institute] and they have symptoms when they're not here," she said. "How can we modify and be very patient-centered about tackling the problem of improving quality of life and symptom care when they're not here?"
Biden said Mooney was the first researcher in his cross-country listening tour to bring up patient symptom care. He said the nurses who took care of his son Beau when he was being treated for brain cancer also backed the idea of tracking what patients said they were feeling.
"How it feels -- it matters," Biden said.
The vice president said he would have his staff follow up with Mooney this week on a more "granular" level.
Meanwhile, Mooney has partnered with College of Nursing professors Mike Caserta and Lee Ellington on a P01 research program grant from the National Institutes of Health to document and analyze hospice patient and caregiver symptoms, communication between health care providers and family members and, ultimately, the process of bereavement after the person with cancer dies.
Read more about the vice president's visit to the University of Utah.
Update: Read an interview with Mooney in American Nurse.
Rebecca Walsh
Rebecca Walsh is the communications specialist for the College of Nursing. (801) 581-4991, rebecca.walsh@nurs.utah.edu.