When you've got a newborn and a toddler, when a daily shower and a grocery run are major achievements, when you're slipping into depression, the last thing you want to do is schlep to the doctor's office.
Identifying and managing post-partum depression can be difficult — particularly in rural areas where women, and their doctors, are isolated.
Using a model developed at Emory University, College of Nursing Associate Professor Gwen Latendresse has designed an intervention for pregnant and post-partum women based on early screening and group therapy. Like most Utah Health patients, the women are asked to fill out emailed MEval questionnaires before their prenatal appointments at university clinics. Those identified by staff at the main Obstetrics and Gynecology clinic as being at risk for depression are referred to Latendresse's groups.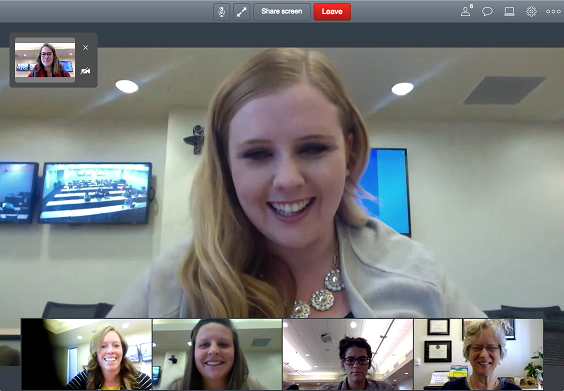 For eight weeks, the women "meet" remotely in a video conference with a college facilitator from psych/mental health. Over the course of their sessions, the women are trained to identify their own triggers and figure out which mindfulness exercises work best for them.
Throughout the project, participants are screened for more serious depression, new medications and hospitalization. Those with more severe depression are referred to specialists.
In a way, it's empowering patients to help themselves, Latendresse says.
"These women would rather not take antidepressants, but they need help," she adds. "They love being together as a group. They have similar experiences and share what they did to manage, what worked for them.
"Ideally, someone would come to their homes. But when that isn't possible, this is the next-best thing," Latendresse says. "And if they say if they had to get in a car and drive somewhere, they might never have done it."
Early rounds required trouble-shooting buggy conferencing technology. And, it turns out, the women want more time to talk amongst themselves. The initial, year-long project has been funded through a $22,000 seed grant from the Burton Foundation. After nine group rounds involving about 50 women from Moab to Salt Lake City, Latendresse is preparing to submit the project for long-term research funding.
"Patients want to be listened to and they want to give input about what works best for them," she says. "We're empowering and educating patients to problem solve and troubleshoot what's going to work best for them. This is not a one-size-fits-all solution."