Four years ago, Susan Matney, PhD, RN, the University of Utah College of Nursing's 2018 Distinguished Alumni Award winner, started having knee pain.
She saw her primary care physician, an orthopedist, a surgeon, physical therapist, home care therapist and outpatient physical therapist. At every point after her knee replacement, Matney had to recreate her medical history for each provider; the primary care physician's electronic documentation system didn't transfer to the orthopedist's or the surgeon's or therapists' record-keeping methods.
It's the kind of healthcare maze patients walk every day and one Matney, an informaticist, is determined to simplify.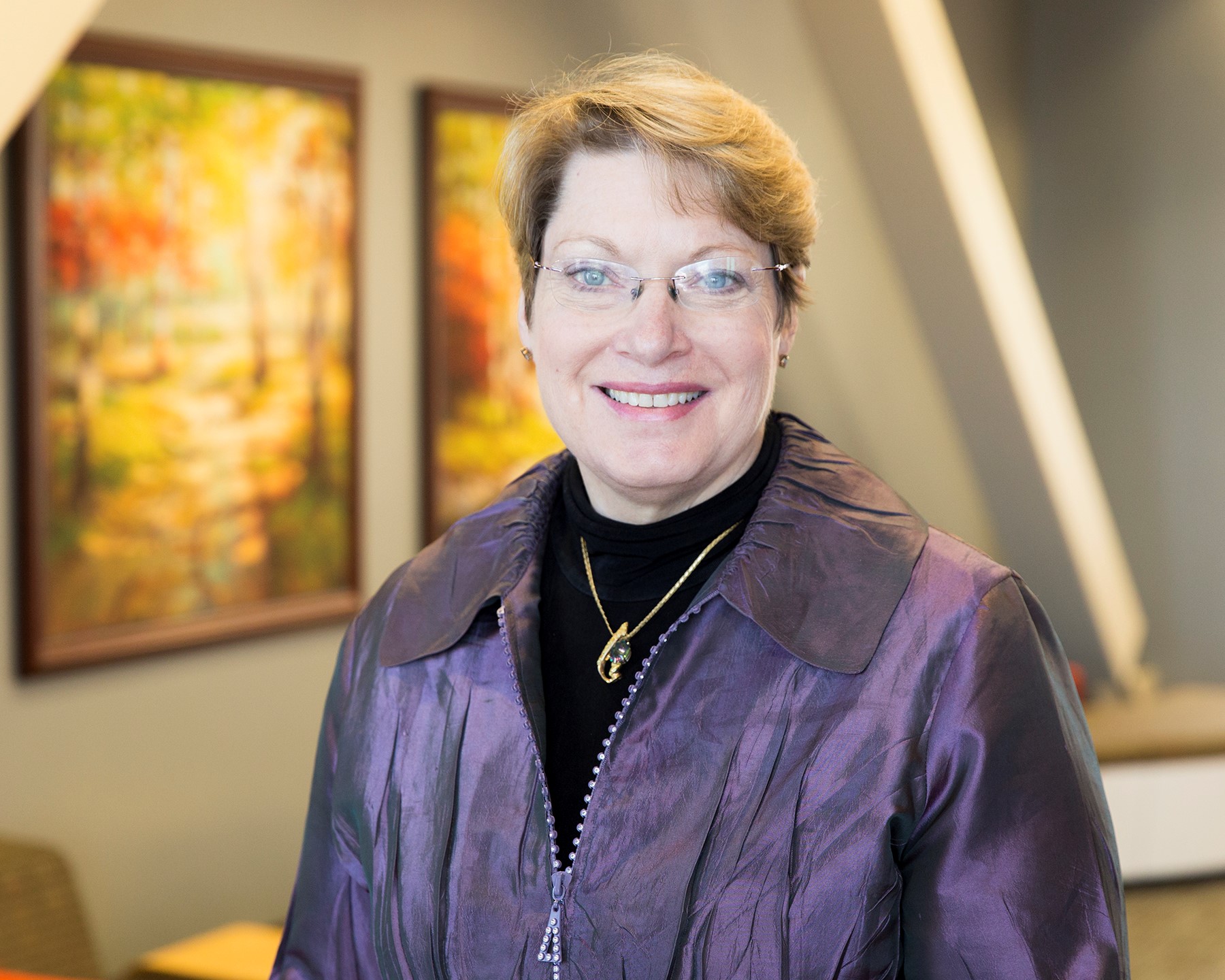 "Why do I care about all of this?" she wrote in a 2015 blog. "Because this is happening to patients every day. What if they are unable to communicate medical history? How are the providers to know how to care for someone when they can't even see their diagnosis or any other information?
"The work I am doing with terminology standards matters to everyone. We provide the ability for different systems to talk to each other, even when they don't speak the same language. We are the translator you can 'dial' into."
Twenty years after graduating from the College of Nursing with a master's of science in nursing informatics, Matney has emerged as an undisputed national leader in the effort to standardize electronic health records with clinical terminologies and information models.
"I'm a process thinker. I like solving puzzles. And healthcare records can be puzzles," she says.
Matney, 59, grew up in the rural, agricultural communities of Colorado's western slope of the Rocky Mountains. At 16, she took a job as a nurse's aide at a neighborhood nursing home in Montrose and started down a circuitous career path to her specialty. Over the two decades from her high school graduation in 1978 to her 1999 graduation from the University of Utah, Matney worked as a staff nurse at Montrose Memorial Hospital in Colorado, as nursing director at Moab's Allen Memorial Hospital, and as director of Women's Services at Lakeview Hospital in Bountiful. Long before her formal training in informatics, she created spreadsheets to track the wholesale costs of medications and labor and delivery outcomes.
"As a student you know you want to be a nurse, but I also thought computers were fun," Matney says. "I really had no idea what I was getting myself into. But I knew the system would improve exponentially if we could see patients' data wherever we are taking care of them. That's still my goal: for patients and clinicians to see the data from anywhere."
Over her informatics career, Matney has worked for Intermountain Healthcare, Siemens Medical Solutions, the University of Utah and 3M as a nursing and medical informaticist; and as a faculty member at the University of Phoenix, Excelsior University in New York City, and the University of Utah.
At the same time, Matney has pushed to change healthcare policy: integrating nursing assessment scales into LOINC (Logical Observation Identifiers Names & Codes), then prodding the American Nurses Association (ANA) to approve LOINC as an ANA recognized terminology and finally bridging LOINC with another interdisciplinary system of medical terminology, SNOMED CT. She was led the LOINC nursing subcommittee since 2002 and was appointed by the National Library of Medicine to the  Quality Assurance Committee of the International Health Terminology Standards Development Organization in 2007.
"Under her guidance, electronic messaging standards, supporting the nursing view of the data, have been developed for patient condition, allergy and plan of care," Lydia Storey Lopez and Judy Warren, Matney's colleague from the University of Kansas, wrote in a distinguished alumni nomination for Montrose High School. "The ability to message nursing information between information systems is enormous and will ensure that our data is there when we need it."
In 2015, Matney received her PhD from the College of Nursing. The next year, she returned to Intermountain Healthcare, where she took a job as senior medical informaticist at the state's largest healthcare system.
Her career has been devoted "to advancing the way we represent nursing care and concepts in electronic health records, so that it is patient-centered and support our ability to learn about nursing care delivery," Mollie Cummins, PhD, RN, the college's associate dean for research and the PhD Program, wrote in her nomination letter for Matney's award.
"Particularly revealing of her influence is that she is quoted in national meetings," wrote Katherine Sward, PhD, RN, an associate professor and nursing informaticist at the college. "More than once, I've heard speakers commenting, 'As Susan Matney would say…'"
Matney and her husband Fred live in Farmington. They have three children and four grandchildren.
Matney will be recognized and deliver the Bullough Lecture at a ceremony at 5 p.m. Nov. 8.