Interim Dean Barbara Wilson was named Utah's exceptional nurse leader for 2018.
Wilson was recognized for 30 years of leadership--from her early career as a labor and delivery bedside nurse to her current role as a mentor of faculty and students and nursing education innovator. The Utah Organization of Nurse Leaders presented her with the award at the Utah Hospital Association's award ceremony Oct. 4.
Nominator Connie Madden, Assistant Dean for the Baccalaureate Program and Student Services, noted Wilson's experience improving patient care, excellence in teaching, mentorship of faculty and students, and rigorous research into labor and delivery outcomes. While serving as interim dean, Wilson continues to oversee the College of Nursing's academic programs.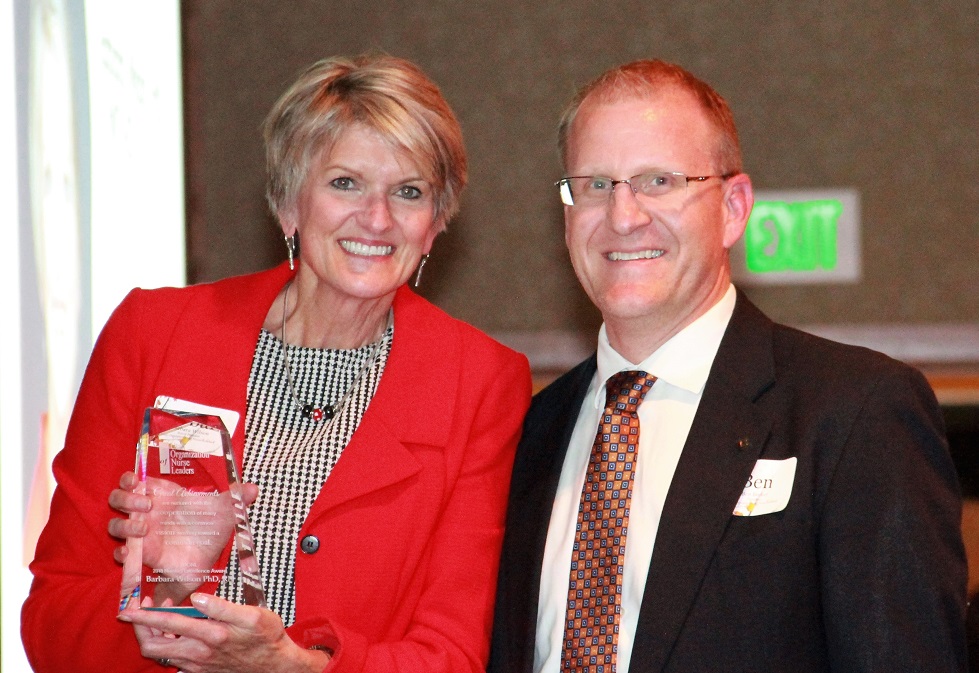 "Throughout her career she has addressed the improvement of patient care quality across a continuum that ranges from individual patient outcomes, to improvement of system process affecting care delivery," Madden wrote. "She began her career at the bedside, and although moving quickly into leadership roles, developed a strong foundation of striving to improve patient care."
Dean Wilson "is a skilled communicator and provides strong leadership that includes advocacy, inclusion, and faculty involvement across all academic programs. Faculty who teach in various programs, see her as an expert colleague with whom they can collaborate to improve teaching and learning pedagogy," Madden added.
Among other highlights, Dean Wilson's exceptional reputation within Utah's nursing practice and education community includes:
Collaborating with Salt Lake Community College to develop a pathway for associate degree-prepared registered nurses to earn their bachelor's degrees
Developing four courses for the new Organizational Leadership track in the Doctor of Nursing practice program
Election as a state delegate for the Utah Nurses Association
Volunteering for Salt Lake County Aging Services' Meals on Wheels program, conducting initial assessments and follow-up phone calls with elderly clients