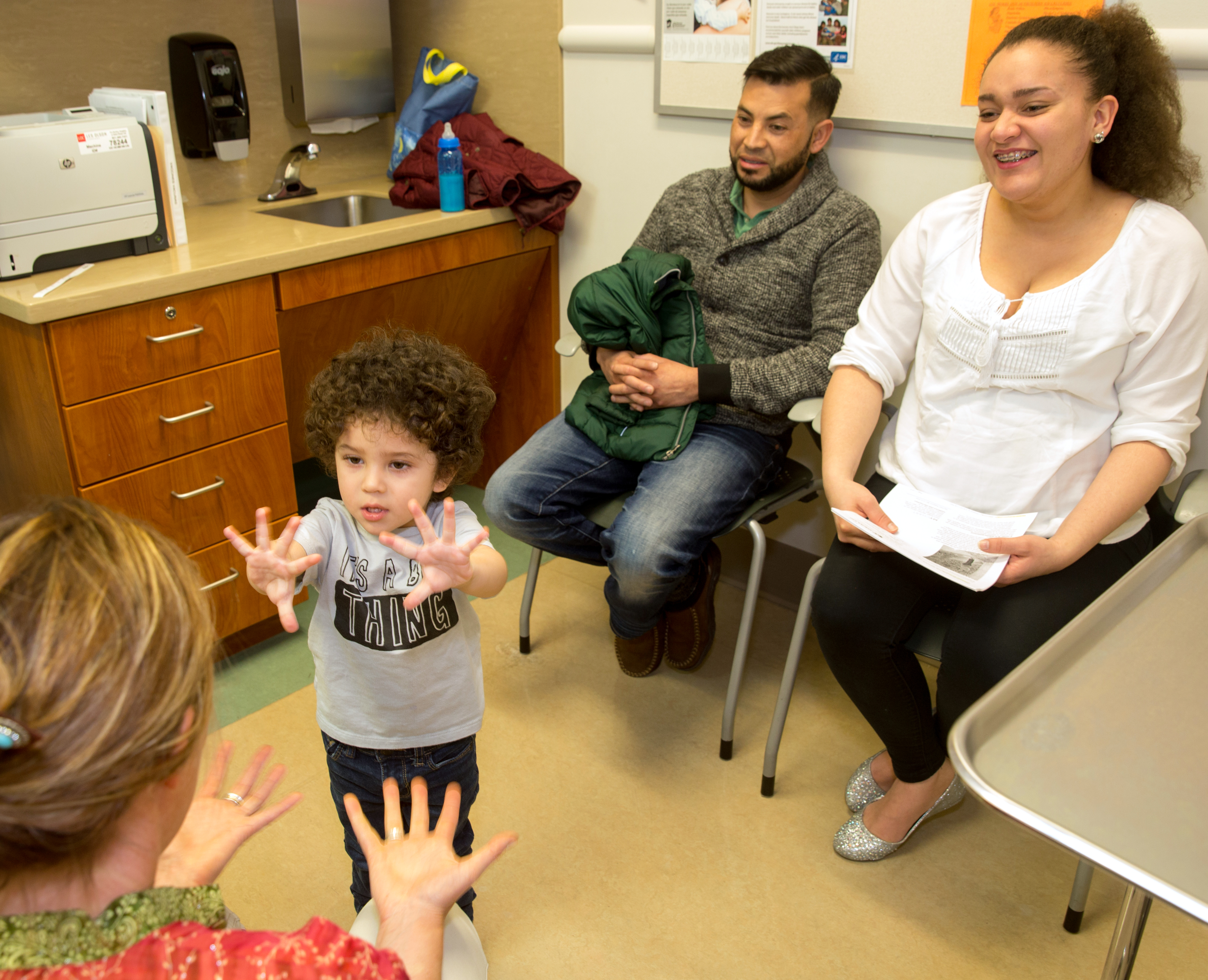 At her son Fabian's six-week checkup, Elisabeth has a list:
Pain in her neck and shoulder. Tenderness around her Cesarean Section incision. And, after giving birth to four girls—20,17,16, and nine years old--and their baby brother, she would like to get an Intrauterine Device (IUD) to prevent further pregnancies.
With her newborn in her lap, and nine-year-old Dulce sitting by her side, Elisabeth listens intently as Doctor of Nursing Practice student Erminia Martinez describes how to care for her incision and massage her shoulder.
"After many babies, and a C-section, it's not unusual for bleeding to continue for a few weeks," Martinez says.
Elisabeth is one of hundreds of undocumented and uninsured patients cared for each year by the College of Nursing's BirthCare HealthCare (BCHC) faculty practice. In 2016, nurse midwives took over providing care for South Main Clinic patients from University of Utah Health Obstetrics and Gynecology doctors. Each year, nurse midwives provide primary and prenatal care to low-income women in 2,500 annual patient visits. About one-fourth of South Main's patients qualify for Medicaid. And more than half are self-pay, or uninsured.
This particular clinic, says Christina Elmore, a certified nurse midwife and assistant professor, is a bustling training ground for future midwives. Many of the patients are immigrants from Central America and southern Mexico.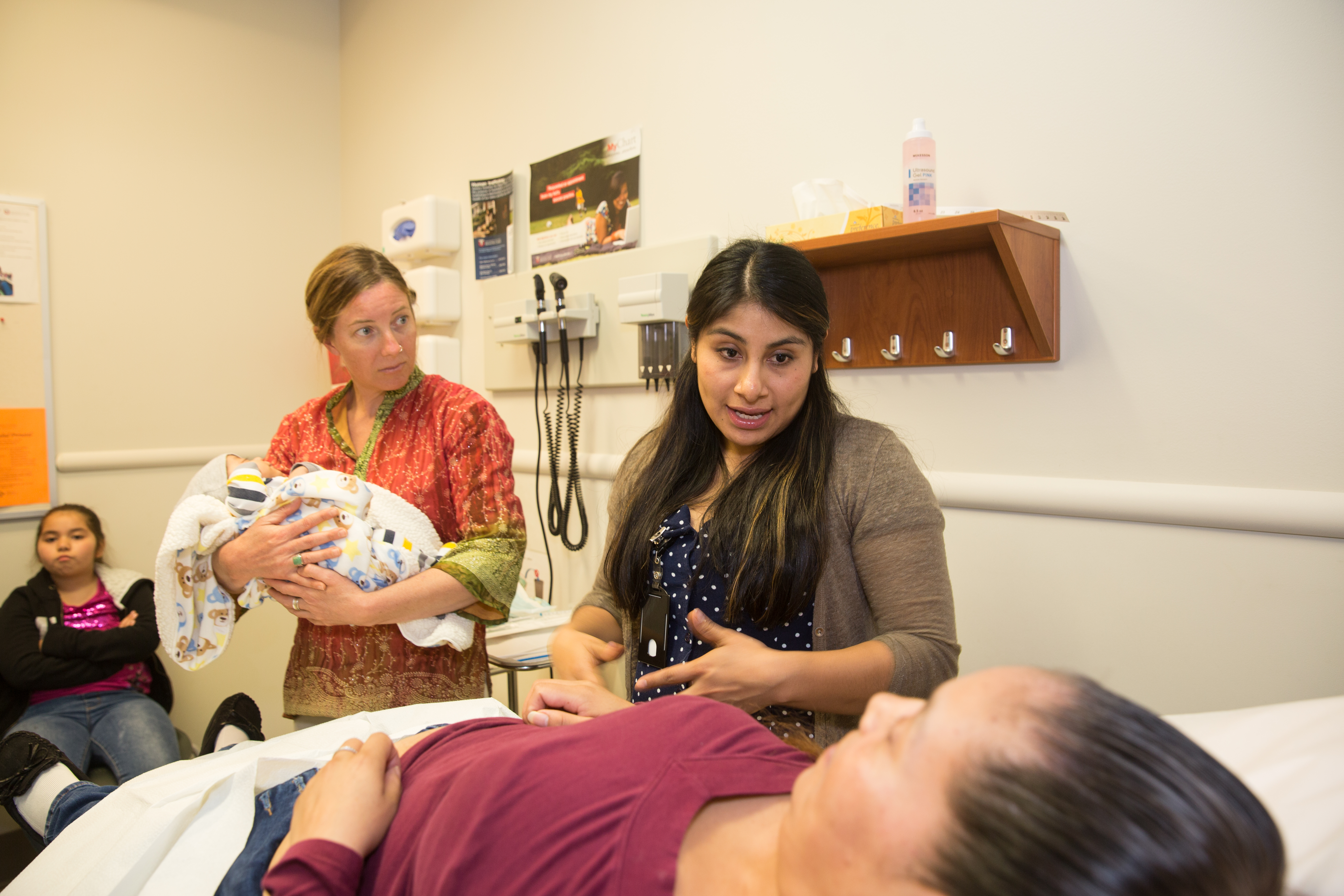 "These women teach me Spanish every day," Elmore adds. "And for students drawn to international work, being able to see how we can help people from diverse backgrounds is invaluable in teaching critical thinking, second languages and the cultural competencies necessary to work in an increasingly diverse healthcare system."
Mishelle, 24, is here for a prenatal visit with her 2-year-old toddler, Kevin, and her husband. She's expecting a baby girl July 12 and already has a name picked out—Giselle.
"This is really close to where I live," she says, shyly, "one light away."
Along with providing primary and prenatal care to low-income women, the college's nurse-midwives also offered a teen mother program and diabetes care at the clinic.
BirthCare HealthCare has provided care for underserved and diverse women since 1999, when they began caring for patients at the Ellis R. Shipp Clinic in West Valley City. Increasing rents forced the practice to move to the Hartland Clinic, and then to South Main three years ago. Currently, the college subsidizes the care provided at the clinic by more than $100,000, often filling the gap between the cost of procedures and services not covered by government or private insurance companies. Still, the South Main Clinic is a point of pride, says Leissa Roberts, associate dean of Faculty Practice.
"Serving the women of our community is one of life's greatest joys," Roberts says. "To know that what we do every day makes a positive difference for a woman and her family is a wonderful thing. 
"Life isn't always about the numbers, it is also about the experience--the experience of one as a healthcare provider and the experience of the woman and family you are caring for," she adds. "These experiences are where connections are made and human connections give us our humanity."
For Martinez, the choice to become a nurse-midwife after working for five years as a labor and delivery nurse and to work at South Main Clinic, was a conscious decision to give back.
"I come from a family background that is very similar to that of these women," Martinez says. At 26 years old, she's in her second year of the DNP program. "It's so scary for so many people; they appreciate and are grateful for, any care. And everyone deserves to get the same level of care, regardless of their circumstances."