Rebecca Wilson, PhD, RN, is the inaugural Frederick Q. Lawson Excellence in Teaching Endowed Chair at the University of Utah College of Nursing (CON).
Established in 2016 by Father Frederick (Rick) Quinney Lawson, the purpose of this endowed chair is to lead exceptional education and teaching at the CON. Education is very important to Father Rick, and it was especially important to his "Aunt Em", Emma Eccles Jones. When Father Rick became involved with nursing, he was excited to meld his passions together—nursing, teaching, and education. "A doctor is worth nothing without a nurse. It would all just fall apart," says Father Rick.
Father Rick hosted an intimate gathering to celebrate Wilson's accomplishment. Father Rick was presented with a certificate and medallion for his endowed chair, while Wilson received a certificate, medallion, and a physical chair.
"I am excited for this opportunity to support our teaching mission and expand my scholarship in learner-centered teaching," says Wilson. "This is a time of significant change and opportunity to lead in nursing education, and the University of Utah College of Nursing is ready to meet the challenge."
About Rebecca Wilson, PhD, RN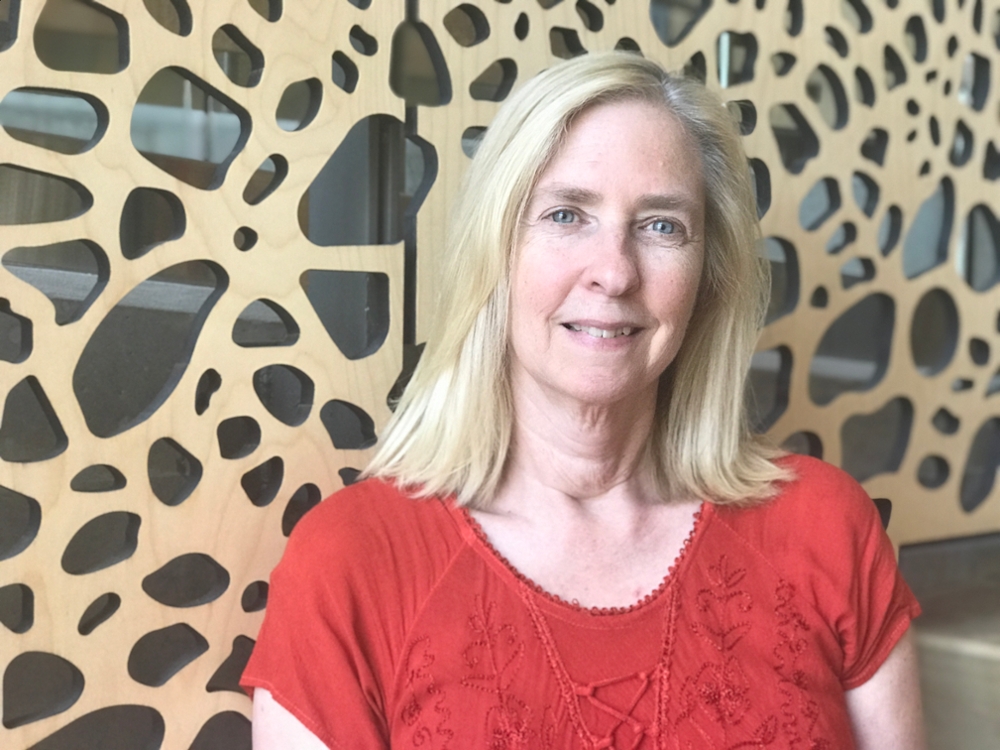 Rebecca Wilson, PhD, RN, is an associate professor and the inaugural Frederick Q. Lawson Excellence in Teaching Endowed Chair at the University of Utah CON. She is the director of and teaches in the CON's Nursing Education Specialty Track, while promoting faculty excellence for the college's teaching mission. She is also the director for the Academy of Health Science Educators. Prior to joining the CON, she was a clinical education specialist at Mayo Clinic in Arizona. Wilson earned her Bachelor of Science in Nursing ('89) and Master of Science in Nursing ('91) at Columbia University School of Nursing in New York. She subsequently received her Master of Education Degree ('05) and PhD in Educational Technology ('11) at Arizona State University with a research focus on the design, delivery, and evaluation of simulation-enhanced nursing education. Wilson has published several articles related to evaluating the effectiveness of simulation-enhanced education for practicing clinicians. Her current area of research is in competency-based education and learner-centered teaching.
About Father Frederick Quinney Lawson

Frederick Quinney Lawson has long believed that education—both in and out of the classroom—is vital to the pursuit of one's dreams. As a student at Saint Mark's School for Boys in Salt Lake City, Lawson knew he would one day become ordained. Marching on Washington D. C. during the Civil Rights movement would give him perspective on adversity and graduating with Honors from Leicester University in England brought Lawson that much closer to his goal. Following the completion of his studies at St. Stephens House at Oxford University, Lawson was ordained a priest in the Anglican Communion. In 1989 he returned to Salt Lake City where he currently presides as dean of Saint Mark's Cathedral.
Dean Lawson took his education to an entire new level—one located thousands of miles below the ocean's surface—when, in 1990, a chaplaincy aboard a cruise line introduced him to scuba divers off the coast of Australia. Upon glimpsing a sunken ship wreck on the bottom of the ocean floor, through a camera belonging to one of the divers, he was captivated. The very next day he participated in a resort course dive along the Great Barrier Reef.
Now certified, Dean Lawson has been actively involved in filming the BBC's documentary series The Blue Planet and has another film in the works. Of his diving adventures which often take him away from his native Utah, Lawson says, "Home is where I am but you never forget your roots."
Rick Lawson's Utah roots run as deep as the underwater world he explores. Son of the late Janet Quinney Lawson and great nephew of Emma Eccles Jones, he comes from a long line of visionary and community-minded Utahans, whose philanthropy has benefited many organizations, including the College of Nursing. Dean Lawson traces his own appreciation of nurses back to his time in England studying with hospice pioneer Cicely Saunders, but says it was in observing the care nurses delivered to his Aunt Emma years later that his relationship with nursing became personal. Serving today as a trustee for the S.J. and Jessie E. Quinney Foundation, the Emma Eccles Jones Foundation, the Janet Q. Lawson Foundation and the Frederick Q. Lawson Foundation, Lawson has made significant contributions to the College of Nursing in collaboration with his family and as an individual. Since 2008, his graduate fellowships have supported many deserving students along the path to becoming nurse educators. However it is the naming of the Frederick Q. Lawson Student Education Center that will give all students a place to meet, find inspiration and collaborate beyond the classroom. As Dean Lawson's own education illustrates, when learners combine knowledge with experience, great ideas are brought to life.