University of Utah College of Nursing (CON) students, faculty, staff, and alumni are playing a historic role in health care by vaccinating Utah's communities against COVID-19.
Protecting Utah's population
As COVID-19 vaccines became available for public administration in early 2021, CON students and faculty have participated in vaccine clinics across Salt Lake and Summit Counties.
Aligning with the American Association of Colleges of Nursing (AACN) and the National League for Nursing (NLN), the CON committed to engaging nursing students and faculty in the critical work of vaccinating local populations. As Utah's flagship nursing institution, the CON sets an example of what exceptional public health management looks like.
"It's been an extraordinary year. I am delighted that our students and faculty eagerly answered the call to vaccinate persons within our community," says CON Dean Marla De Jong. "Our students and faculty are making it possible for the COVID-19 vaccine to be distributed fairly, equitably, and safely to Utahns who want to be vaccinated."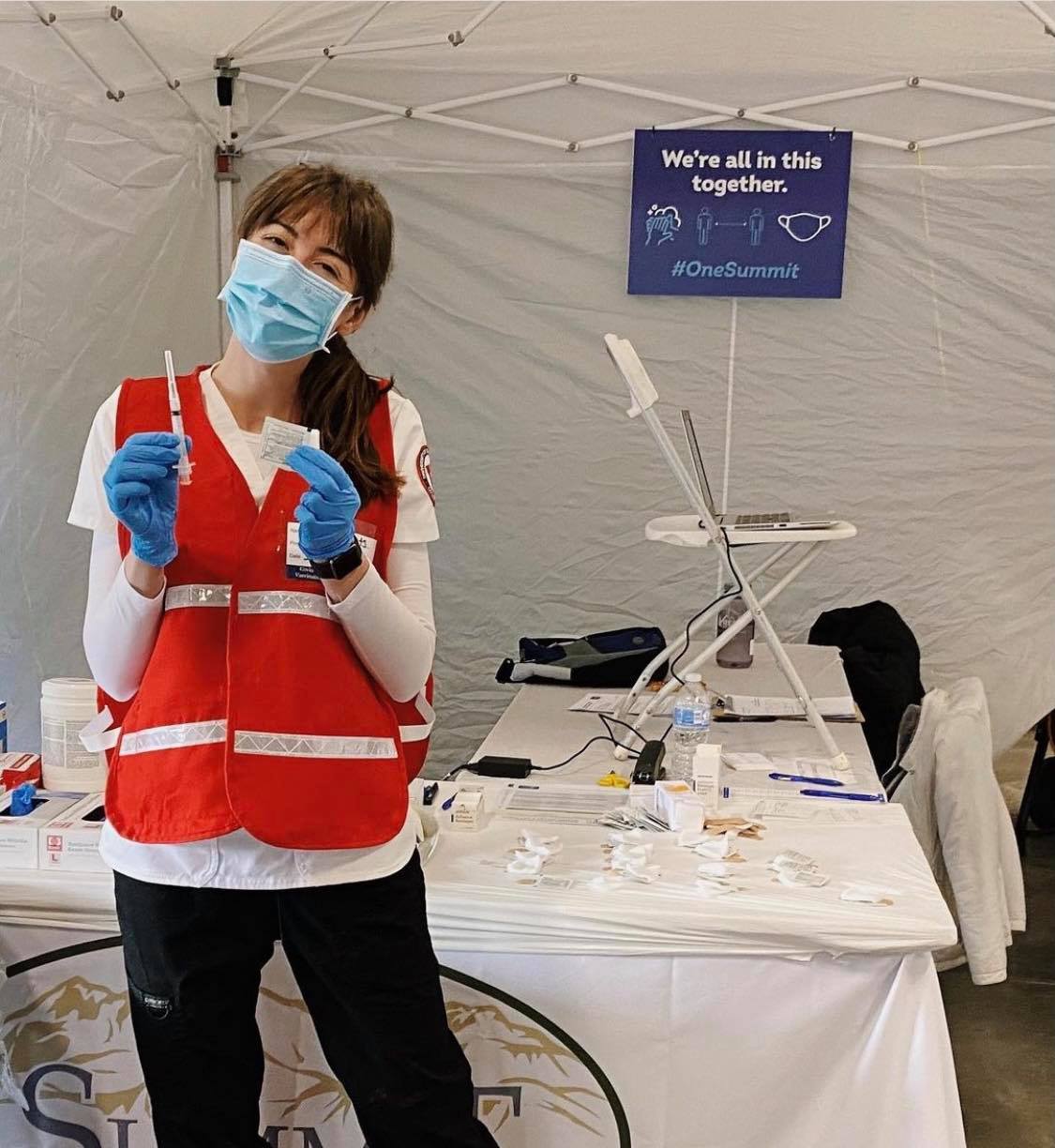 Balancing the load
Student and faculty COVID-19 vaccine clinic volunteers not only champion state and national public health initiatives, but alleviate the strain on Utah's health systems and health care workforce. At the height of Utah's COVID-19 hospitalization rate in the fall of 2020, Utah's Division of Occupational and Professional Licensing created a temporary nursing apprentice license that allowed fourth-year pre-licensure nursing students to work in hospitals and clinics.
The temporary nursing apprentice license relieved overworked health care professionals by distributing the heightened demand for care among additional workers while allowing established personnel to focus on COVID-19 patients. CON students and faculty who participate in COVID-19 vaccine clinics achieve the same goal—volunteering their time and skill to provide care to an influx of patients while meeting the demand for additional health care professionals. CON volunteers allow more patients to receive vaccines in a shorter time span, controlling the spread of COVID-19 in Utah. 
"I am so proud of how our nursing students and faculty immediately volunteered to work at vaccine clinics, educating persons about the vaccine, drawing up doses, administering vaccines, and observing persons for potential adverse reactions," expresses Dean De Jong. "An experience of a lifetime, students accelerated the pace of vaccination and alleviated the strain on health systems and health care workers."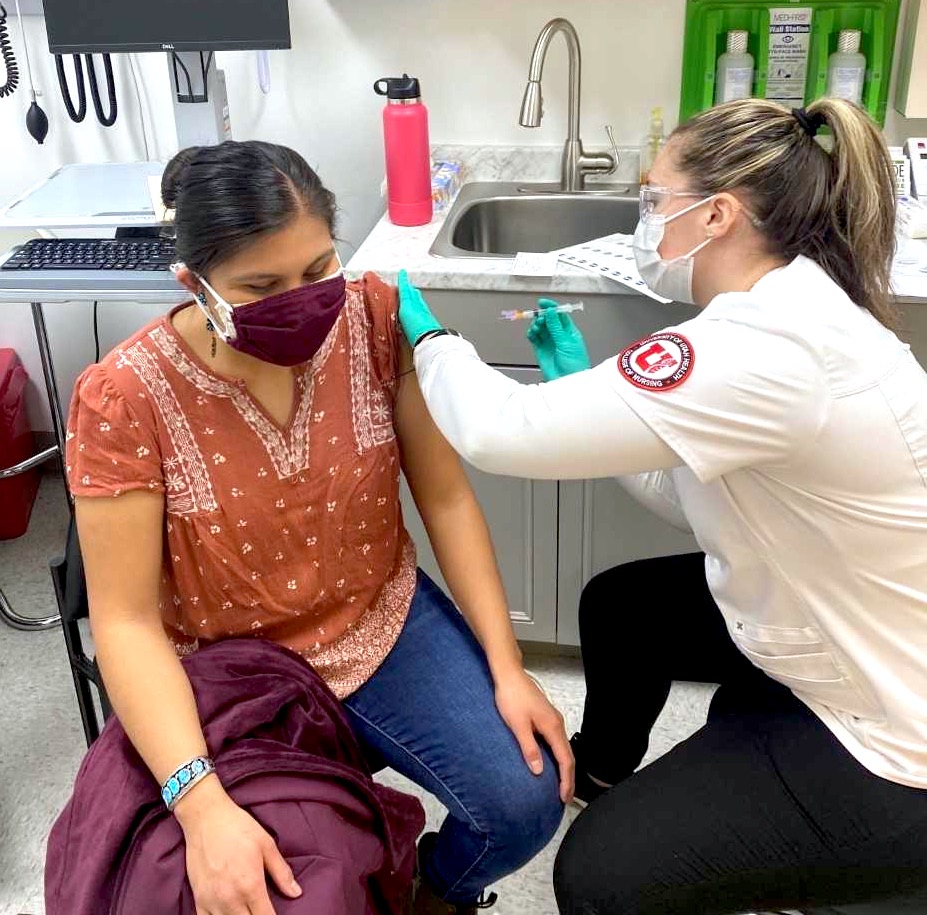 A historic training opportunity
During the semi-annual CON Lamp of Learning ceremony, new pre-licensure students recite the nursing oath, pledging in part to "consider the welfare of humanity and relief of suffering my primary concerns," and "apply my knowledge, experience, and skills to the best of my ability to assure optimal outcomes for my patients." When they began school, students would not have predicted that they would contribute to ending a historic pandemic.
CON students and faculty volunteer weekly at multiple COVID-19 vaccination sites—administering vaccines to underserved populations at the Urban Indian Center of Salt Lake, vaccinating vulnerable patients at the University of Utah Hospital, managing the Summit County Health Department drive-through vaccine clinic, among others.
Although the pandemic presented challenges to students, administering the COVID-19 vaccine was an unexpected opportunity for them to put their education into practice, slow the spread of COVID-19, and protect the health and well-being of Utahns. Typically, pre-licensure nursing students complete vaccination training through an academic module in class. Due to the high volume of individuals who will receive a COVID-19 vaccine this year, the state of Utah allowed nursing students to participate in COVID-19 vaccine clinics. 
The clinics provide ample experiential training and allow students to become involved in public health initiatives. "Students have learned more about the nurse's role in public health policy. We can only effect change if we know the full implication of the problem," says Associate Professor Brenda Luther. "Students and faculty have seen the implications of public health policy as each of us have learned that our community health care partners—both small and large—are minimally staffed and not prepared to scale up to the needs of a pandemic."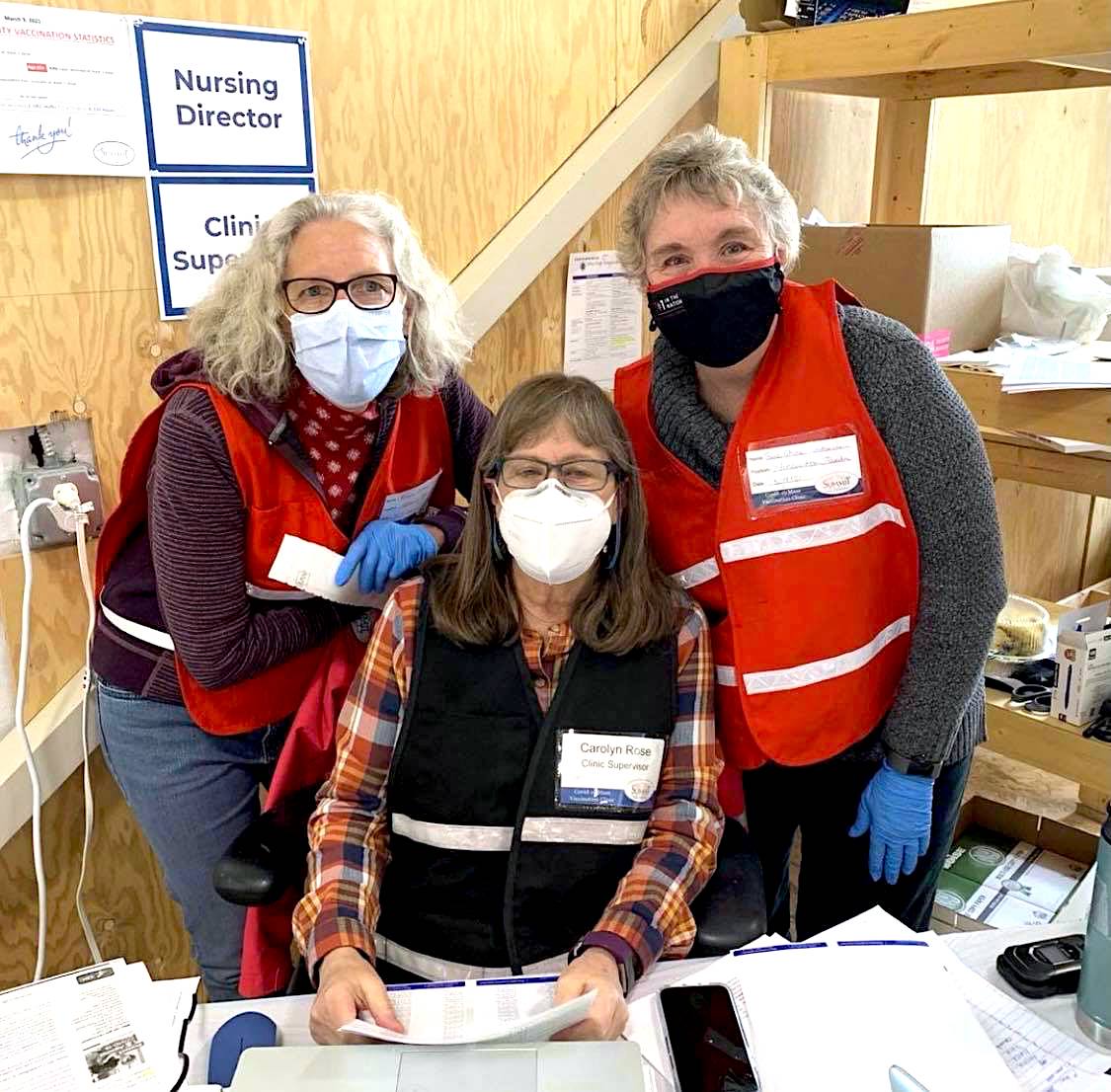 The role of a nurse 
Students will not forget their contributions to mitigating this historic pandemic, and have the opportunity to steward the values of the nursing discipline.
"As faculty, we discuss the role of the nurse as more than a job—it is a profession that becomes a part of the way we live and think, which includes accountability to our community. This pandemic helped our students see the role of the professional nurse," explains Luther. "While nurses are always contributing to the needs of the community through their jobs, volunteering is also vital to help the community and demonstrates a broader value of the professional nurse."
Students were grateful for the opportunity to learn more about the values of nursing while helping community members remain healthy. "It felt good to be a part of something huge that would change the lives of many people," says baccalaureate student Siera Gants. "So many of the patients were very grateful to receive the vaccine and told us how it was going to make them feel a lot safer."
Sydney Sheffield, a baccalaureate nursing student who volunteered at the Urban Indian Center of Salt Lake vaccine clinic, was most thankful for the opportunity to help vaccinate Utah's native population. "It really was an honor for the CON to be able to serve the Native American and Indigenous populations of Utah because they are such a susceptible population."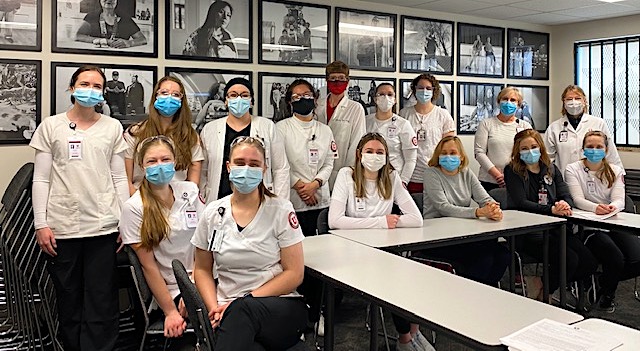 The CON community comes together
Not only do students and faculty volunteer, but staff and alumni too. CON alumni, many of whom work as health care professionals at hospitals and clinics across Utah, have been highly engaged in COVID-19 vaccination. Some alumni have even dusted off their scrubs to volunteer at COVID-19 vaccine clinics after having left the field or retired.
Along with participating in support and administration roles at COVID-19 vaccine clinics, CON staff members have played a key role in disseminating COVID-19 vaccine information to both internal and external audiences. CON staff widely distribute vaccine clinic information, halt the spread of misinformation, and steward national and state public health campaigns. Keeping the public informed is crucial to managing COVID-19.
As 2021 and the COVID-19 pandemic continue, the CON looks forward to participating in additional vaccine clinics while providing Utah's communities with high-quality, equitable care. The CON's community will stop at nothing to ensure the health of loved ones and strangers alike.