Andrew Lamb, RN, BSN, is a Cutaneous Lymphoma Clinical Nurse at Huntsman Cancer Institute.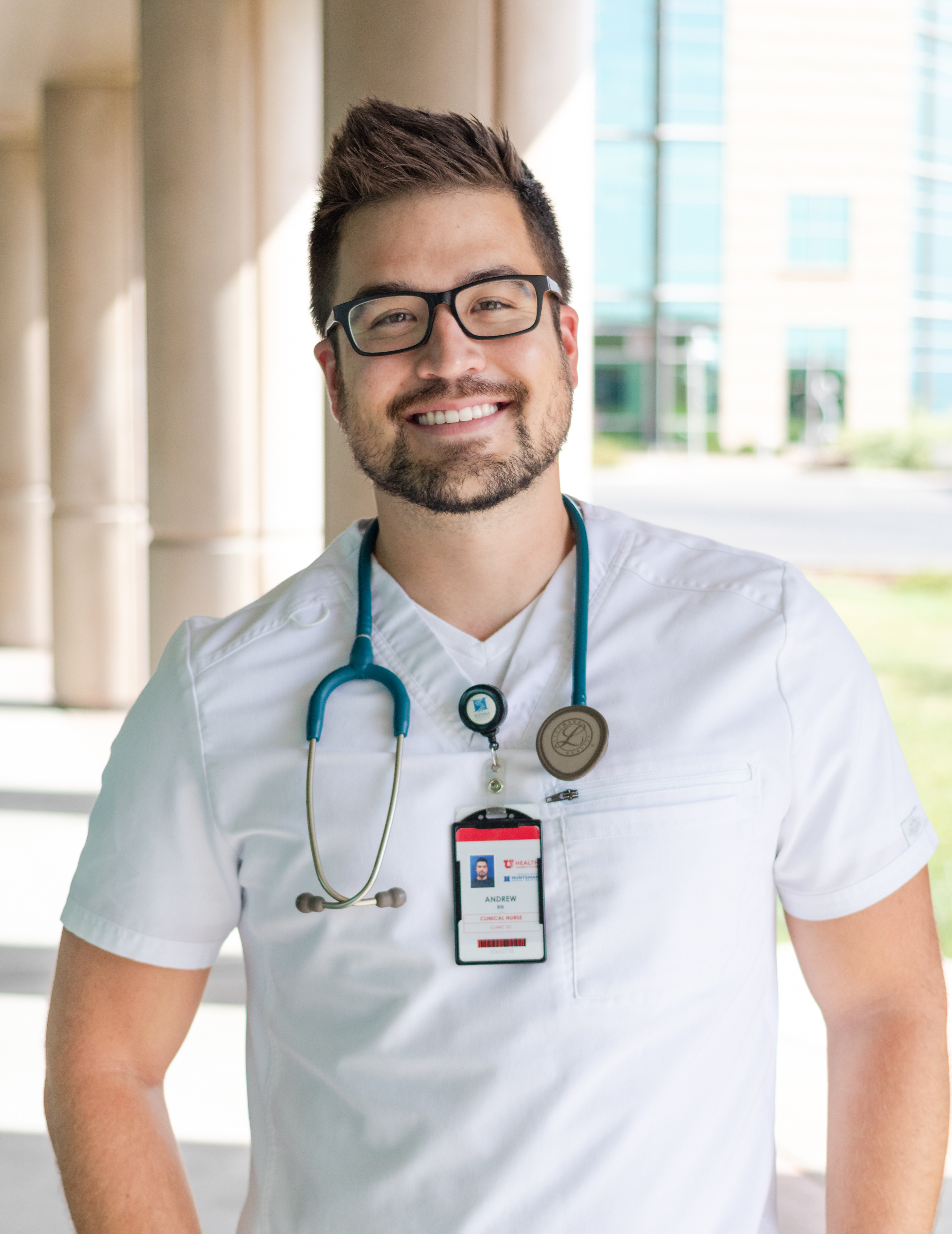 Originally from North Carolina, Lamb moved to Salt Lake City in 2009 to attend the University of Utah, pursuing a Bachelor of Science in Biology, Minor in Chemistry, and competing on the Swimming & Diving Team.
After graduating in 2014, Lamb landed his first job as a medical assistant at Huntsman Cancer Institute (HCI). He worked at HCI for four years before enrolling in the University of Utah College of Nursing's (CON) Prelicensure Baccalaureate Program. 
Lamb ended up back at HCI for his nursing Capstone, and after passing the NCLEX in 2020 began working in the same HCI cutaneous oncology specialty clinic where he was once a medical assistant—now as an RN.
Choosing nursing school over medical school
Lamb did not originally intend to become a nurse. It was after he began working in health care that he realized nursing best matched his goals and interests. 
"Admittedly, growing up, I never even considered the prospect of becoming a nurse. I lived so much of my early life with blinders on. My sole focus was to go to medical school to become an MD—without any experience in health care to substantiate that desire," explains Lamb. "I knew I wanted to work in health care and I had a very deep interest in the biological sciences, so becoming a doctor seemed like the perfect fit!"
"It wasn't until I started working at Huntsman that I got an in-depth look at the inner workings of the health care system. I had a detailed perspective on the roles of the various health care team-members. It was then that I realized the nursing model of health care resonated most deeply with me," says Lamb. "I had suddenly discovered that this holistic, whole-person approach to delivering care was what I had been looking for."
The inspiring field of oncology nursing
Although Lamb was very familiar with HCI, he didn't intentionally seek out oncology nursing—oncology nursing found him.  
"I was initially terrified of working in oncology. I feared it would be so emotionally and mentally taxing working in a field where poor outcomes are not uncommon. What I didn't understand then was that I NEEDED the field of oncology," says Lamb. "The patients inspire me—their journeys, stories, trials, tribulations, and victories."
"I love working in oncology, and I can't help but feel like this is what I was meant to do. I would never be here if I hadn't taken a chance on it. Sometimes the things you need most aren't the things you think you want at the time," explains Lamb.
Overcoming COVID-19 and cancer in tandem
Halfway through Lamb's Capstone, the COVID-19 pandemic began, grinding clinical rotations to a halt. CON staff and faculty worked quickly to migrate all educational experiences to an online format.
"Our cohort forged through the pandemic thanks to our resilient and creative faculty who implemented new virtual learning opportunities to supplement our existing coursework."
Like countless health care professionals and students, Lamb was struck by the emotional and physical toll of COVID-19 for both himself and his patients.
"COVID-19 shut down everything from businesses, the economy, and most health care centers," says Lamb. "COVID-19 led to a strict no-visitor policy at Huntsman, where cancer patients had to navigate their care alone. But cancer doesn't care about COVID-19, and cancer didn't stop."
"Cancer continued to plague people in the midst of the pandemic that brought our modern civilization to its knees. The battle against cancer is relentless—patients literally fight for their lives," says Lamb. "It is an honor and a privilege to have a role in that fight, to participate in the relentless battle. To help treat, detect, diagnose, care, guide, and sometimes just listen."
A day in the life of an oncology RN
Oncology nursing responsibilities vary greatly based on specialty and organization. Lamb's role in the cutaneous oncology specialty clinic is approximately half administrative and half clinical. He sees patients for skin cancer screenings, Mohs surgery, long term surgical and infusion treatment management, cutaneous lymphoma, and other definitive skin cancer treatments.
"As the cutaneous lymphoma RN, my primary focus is our patients with cutaneous lymphoma, however I am also deeply involved in our skin cancer screening clinics and help out with our Mohs surgery patients as well. Cutaneous lymphoma is a rare type of lymphoma that manifests in the skin. It is a chronic condition where the goal is disease control, not cure. Our patients require intensive follow up, treatment guidance, and often frequent diagnostics to determine disease extent," states Lamb.
"My job is to manage and disseminate the influx of diagnostic data as they become available, medication/treatment coaching, patient education, telephone triage, and procedural assistance during biopsies or other treatments done in clinic."
Caring for patients throughout their cancer journey
Because Lamb's patients have a chronic disease that requires frequent follow up, he and his colleagues get to know their patients well and become intimately familiar with their cancer journey.
"While treating cancer can be very challenging, it can also be very rewarding. One of the most rewarding aspects of my career is to watch patients transition from who they were at consultation to who they are at remission," states Lamb. "Most patients arrive at their consultation understandably terrified, stressed, and confused about their diagnosis and their outlook moving forward."
"Most patients require trials of many different treatment modalities, depending on side effect profile and treatment response. With each failed treatment, patients can become discouraged," says Lamb. "Eventually we may find a treatment that just clicks, and is well tolerated and effective. As we watch their blood counts drop, or their clinical disease burden reduce, that hope flickers brighter."
"Finally, if we can get the patient clear of disease, they are ecstatic and not only feel better, but feel stronger and empowered. Being able to participate in the transition from fear and uncertainty, to empowered and resilient is easily the most rewarding aspect of my career," expresses Lamb.
How CON students can get into oncology nursing
Lamb suggests that having an open mind is the key to beginning a career in oncology nursing. 
"My story would never have unfolded the way it has if I didn't have an open mind. Oncology may scare you at first, like it scared me. Have an open mind and take in as much as you can."
"If you are not already in a nursing program, find out if institutions can provide you with opportunities to shadow a staff member. If you are in nursing school, take advantage of your clinical rotations," explains Lamb. "If clinical placements become available and you have the chance to spend time in oncology or work with oncology patients in a med/surg setting, take advantage of it! Talk to the patients and their families, hear their stories."
Lamb also urges nursing student to ask a lot of questions. "You can learn a little from just being present in clinicals, but you can learn so much more if you ask questions and look for opportunities. Be present and aware of what is happening in the unit. If a nurse other than your preceptor is working with an oncology patient and you are interested, see if you can jump over and get involved," says Lamb.
Lamb's advice for students who want to become oncology nurses: attitude is everyting
"Be patient, seek opportunities, and have a positive attitude. You may not always get your first choice in employment and that's okay. Take your time, get experience, and have a positive attitude. There are so many things you can learn in a non-cancer setting that may provide to be valuable in oncology. Everything from medical knowledge, to culture and professionalism," suggests Lamb.
"Attitude is everything, after all cancer can be a grim diagnosis. Be a positive beacon for those who need hope. The Huntsman Cancer Hospital has an inspirational culture. Learn from the culture of your institution, take what works, perpetuate the positive, and pass it on to the next generation. Learn to get comfortable having difficult conversations, asking questions and most importantly listening. Sometimes the most therapeutic thing you can do for someone is to just listen," says Lamb.