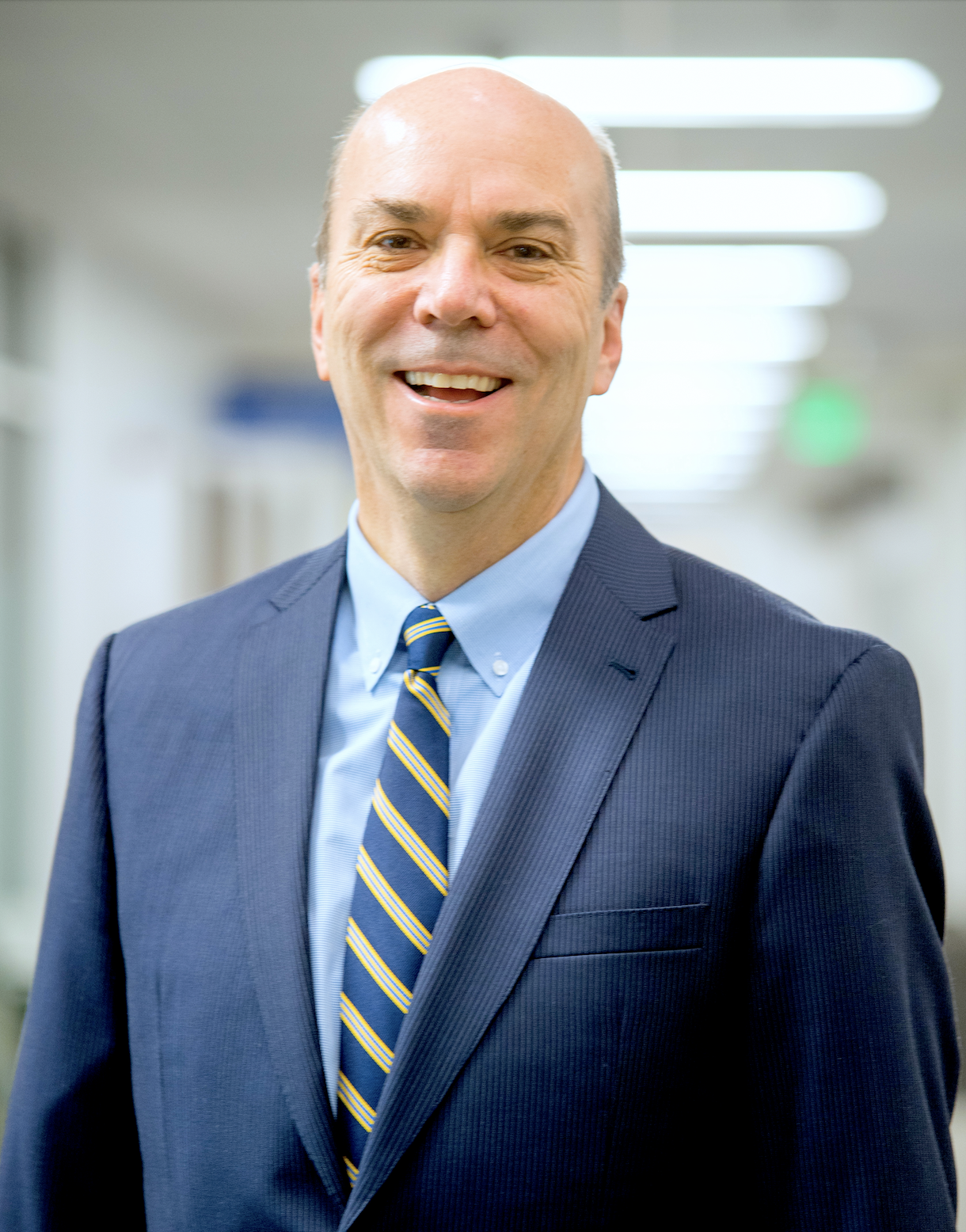 Macey's path to gerontology
Gerontologist and College of Nursing (CON) Alumnus Joel Macey, MS, MPA, is passionate about providing dignified and equitable care for older adults.
Macey has worked in health care for most of his career. Though he has always been interested in serving older adults, he decided to study gerontology after volunteering as a long-term care ombudsman for Salt Lake County Aging Services, advocating for older adults in skilled nursing facilities and assisted living facilities. He also has experience caring for his own older adult family members, further solidifying his decision. 
After graduating from the Gerontology Interdisciplinary Program at the CON with a Master of Science in Gerontology degree, Macey became the Executive Director of Intermountain Healthcare's Homecare and Hospice Program where he leads and develops programs for older adults and hospice patients. He also serves as a hospice volunteer, serving older adults who are receiving end-of-life care.
The most rewarding aspect of Macey's career is the opportunity to provide medical and supportive care in the home. "I'm interested in supporting older adults who have a desire to age in place—in their community—which most often means the home they've been living in for many years," says Macey. "I'm also interested in advocating for public policies, community services and community partnerships that support aging in place."
A day in a gerontologist's life
The Gerontological Society of America states, "gerontologists study the changes in people as they age, and the changes in society, that result from the aging population, applying this knowledge to policies and programs." Thus, the primary role of a gerontologist is studying and providing care for older adults.
The typical work day of a gerontologist varies depending on specialty and place of work. As the Executive Director of Intermountain Heathcare's Homecare and Hospice Program, Macey's work focuses on aging in place. 
"Much of what I do in a typical day is focused on supporting and improving care that is delivered in the home, provided by clinical and non-clinical staff. Most of those receiving care are older adults," says Macey. "My specific accountability includes promoting a vision that supports and sustains a focus on key fundamentals including, quality, safety, growth, access, patient experience, staff engagement, stewardship, and equity."
Gerontologists add value health care teams
A health care team is not complete without a gerontologist. Even though the United States' population is aging, older adults are sometimes overlooked within health care systems. Gerontologists have the opportunity to not only care for older adults, but advocate for them. 
"Gerontologists can help remove barriers and biases that often influence the medical care or lack of medical care that older adults receive," says Macey. "Gerontologists can also help health care providers and caregivers understand how to best support older adults in their decision making with an emphasis on quality of life, particularly at end-of-life." 
Macey explains that much of the value added by gerontologists can be summarized by the 4Ms of an age-friendly health system, as defined by the Institute for Health Care Improvement. The 4Ms are 1) What Matters, focusing on heath outcome goals defined by the older adult, 2) Medication, if medication is necessary it shouldn't interfere with mobility or mentation, 3) Mentation, prevent, identify, treat and manage dementia, depression and delirium, and 4) Mobility, older adults moving safely every day.
Better serve your community through gerontology
Macey explains that students don't have to become gerontologists to learn about aging and older adults. GIP's courses allow students from varying disciplines to study topics within the gerontology discipline. GIP courses can prepare students to better serve their community within a number of professions, including nursing, social work, public health, policy making, and more.
"In addition to the Master of Science in Gerontology degree, the interdisciplinary program offers an undergraduate minor degree as well as graduate and undergraduate certificate programs," says Macey. "All of these options provide opportunities for students to learn about aging, aging policy, and other important factors influenced by the aging population. All the focus of gerontologists."
Macey's advice for future gerontologists
Are you interested in learning more about gerontology and aging? The first step is simple—start interacting with older adults on a regular basis. 
"Find an opportunity to work with and serve older adults in different settings. This will increase your interest in older adults and your passion for supporting older adults in a variety of ways," suggests Macey. "In addition, reach out to staff and leaders in GIP. You'll receive a very warm welcome and find a lot of great information. GIP is an outstanding program with excellent faculty. It's recognized by the Gerontological Society of America as a Program of Merit, which represents excellence among gerontology programs."