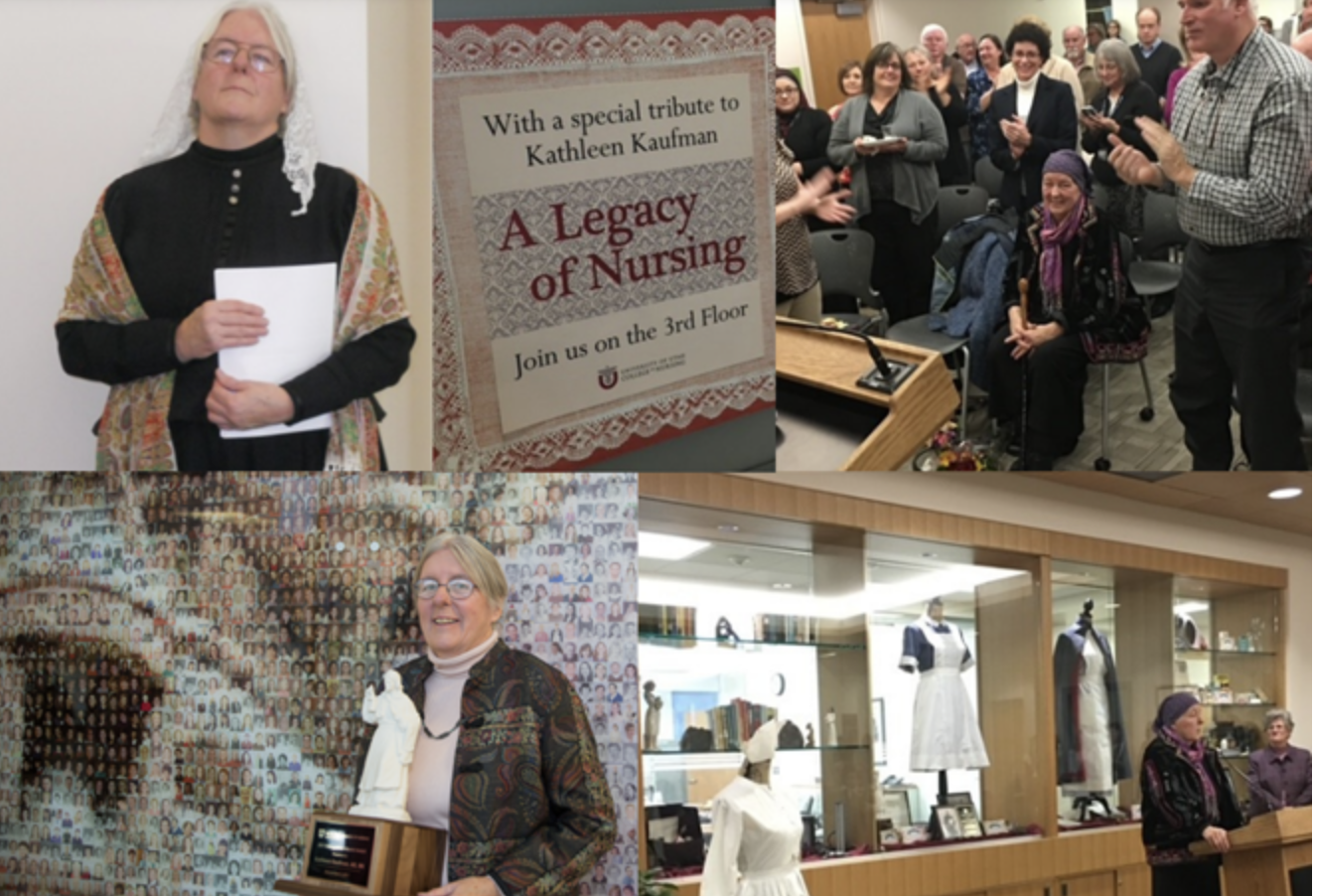 Whether you knew her as friend, colleague, teacher, mentor, historian, advocate, distinguished alumni—or even our personal College of Nursing Florence Nightingale (as she graced our biennial Lamp of Learning ceremonies in full costume for years)—Kathleen Kaufman was a true champion of nursing.
As she passed peacefully Monday, March 21, surrounded by her family, we remember her strength, her passion, and her wisdom. In January 2016, the College of Nursing answered the call to honor Kathleen with a display of nursing history, giving a nod to her unfailing commitment to keeping Utah's nursing history intact.
Kathleen fought her battle with cancer head-on with the same strength and gumption she approached her life with—the power of one. Kathleen was a retired College of Nursing faculty member, and made many outstanding contributions to education, policy, scholarship, and the nursing profession.
Kathleen received her master's degree from the College in 1987. She retired as an Associate (Clinical) Professor after her prestigious 24-year career. She was passionate about student learning in the medical-surgical setting. She was known as a tough, yet well-respected and admired teacher. You always knew whose Kathleen's students were—as they "knew their stuff" when it came to nursing care. She taught clinically at LDS Hospital and Intermountain Medical Center. She was dedicated to reminding future nurses of the proud tradition behind their profession and advocated for nursing daily. Kathleen was the unofficial keeper of LDS Hospital's—and the state's—nursing history, including co-authoring a book, Celebrating the First 100 Years: LDS Hospital, 1905-2005. She donated an extensive collection of nursing textbooks and history tomes that are housed on the College of Nursing's third floor.
Kathleen was very active in the Utah Nurses Association—being President twice and for years leading the Government Relations Committee (GRC). She was passionate about Medicaid expansion, nurses on boards "at the table" where health policy was being made, and all nurses being advocates. She was a staunch advocate for those who couldn't advocate for themselves and often testified on health issues in the State Legislature (on behalf of nurses). Kathleen retired from the College of Nursing in 2012. In 2017 Kathleen received the Distinguished Alumni Award for her lifetime of work advocating for students, working nurses, and their patients.
"Thank you, Kathleen, for your decades of service to the nursing profession, to our students, staff and faculty, and to our College of Nursing. You represented us well," says College of Nursing Dean Marla De Jong.
Kathleen's children requested that in lieu of flowers, donations be made to the College of Nursing. To make an online donation, click HERE. In the special instructions text box, please type, "In Memory of Kathleen Kaufman."