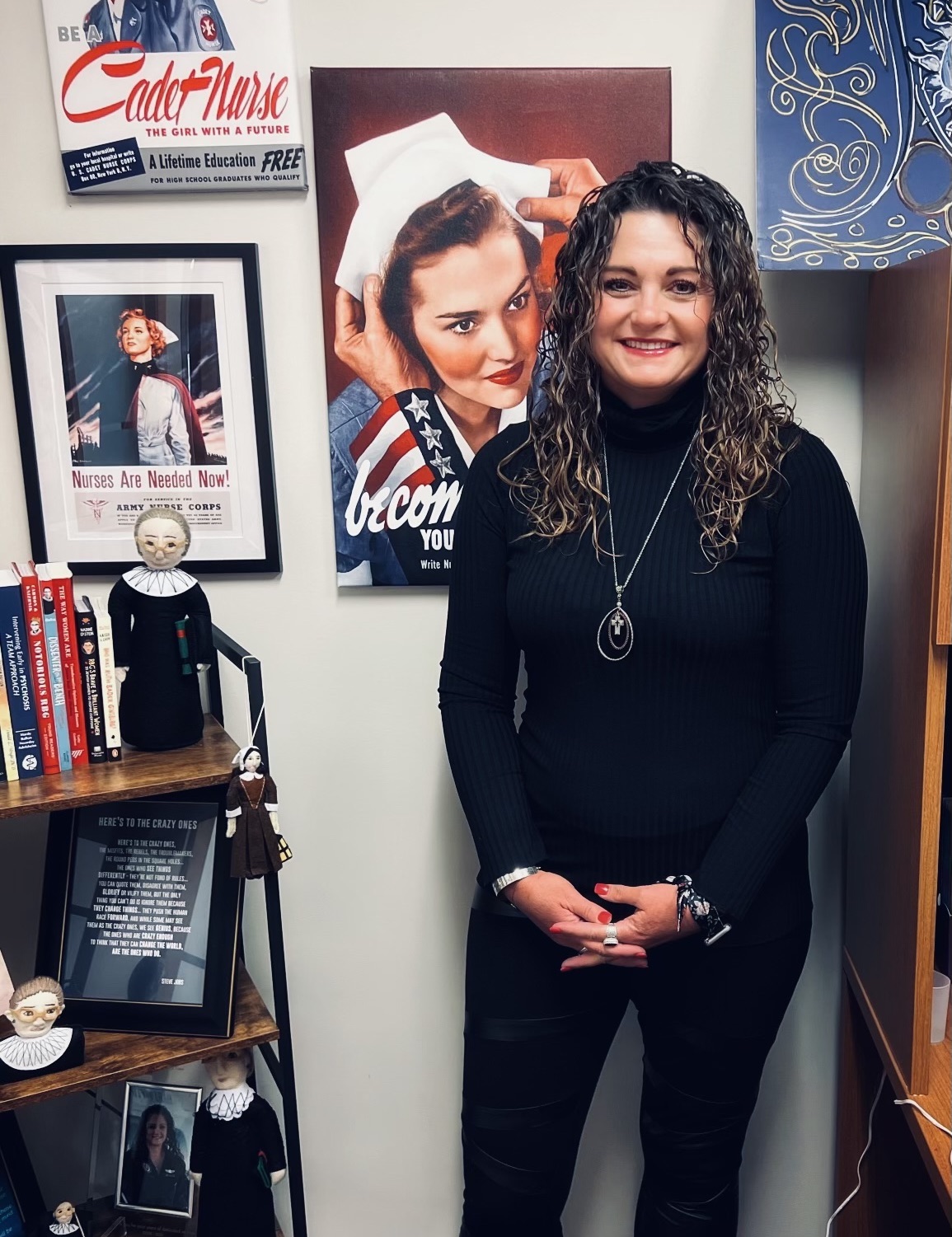 University of Utah College of Nursing (CON) Alumna and Psychiatric/Mental Health Nurse Practitioner (PMHNP) Windi Woods is passionate about meeting patients where they're at to help them through their day.
Destined to be a nurse
Woods always knew she wanted to become a nurse. "It was not something I ever had to think about. I always knew it was what I was meant to do," says Woods. Following her passion for care, Woods became a two-time CON graduate. She received a Bachelor of Science in Nursing degree in 1997, and a Psychiatric/Mental Health Doctor of Nursing Practice degree in 2021.
Woods' path to psychiatric/mental health nursing
Woods has worked within a few nursing disciplines throughout her career. "I have spent the majority of my career working as a high-risk labor and delivery nurse, and have been a perinatal flight nurse for AirMed for the past 16 years," says Woods. In recent years, Woods pivoted to forensic and psychiatric/mental health nursing. As the field of nursing contains many disciplines, nurses have the ability to work in various roles throughout their career.
Woods became a PMHNP because she saw issues in the way that sexual assault victims were treated within the system, and wanted to be part of the solution. "I worked as a sexual assault nurse examiner (SANE) for several years. When those patients left after the exam, I knew their follow-up care was limited," says Woods. "The long waiting lists and limited resources were appalling to me. Instead of being frustrated, I decided to go back to school and contribute to the solution."
A day in the life of a community health PMHNP
Woods works as a PMHNP within the Odyssey House Forensic Assertive Community Treatment (FACT) Team. Non-profit Odyssey House is Utah's largest and most comprehensive addiction program. Through clinical services, mental health programming, residential and outpatient services, and more, their mission is "empowering people to heal and build better lives."
Some of Woods' patients live in boarding homes, shelters, or are unhoused on the street. Although some patients make their way to Woods' office at Odyssey House, the majority of Woods' time is spent meeting her patients where they are. 
"My patients are the patients who have been turned away from most other programs. They suffer from dual diagnoses of serious mental illness and substance use disorder. They are very ill—most of them have been diagnosed with schizophrenia and/or bipolar 1 disorder," says Woods. "They suffer from chronic homelessness and are involved in the criminal justice system. This is a difficult population for most to work with."
It is typical for Woods to practice therapy and provide medication to patients on the street, in a shelter, or wherever the patient may be. "When our patients are arrested, we visit them in jail and check on them regularly—our team checks in on our patients every day," says Woods. "When we have not heard from a patient for several days, it's not uncommon for our team to methodically drive around known places and look for our people. This is street medicine and I love it."
A rewarding career
Woods says that the best part of the job is "knowing that this team is the end of the road for most of these patients and we give them hope. We don't turn anyone away." She believes that PMHNPs are crucial to every health care team because mental health directly affects physical health. Especially in Woods' discipline,  supporting a patient's mental health is often the first step in addressing their overall health and treatment plan. "You cannot address an individual's physical health without assessing their mental health," says woods. 
Woods' advice for aspiring PMHNPs
"Don't focus on changing/curing your patient's life, just look at ways to help them through their day. Sometimes that is all that you can do and that's okay," says Woods.
Interested in becoming a PMHNP? Click HERE to check out our PMHNP DNP program.