By Jacqueline Scheider
The University of Utah College of Nursing's Nurse Education, Practice, Quality and Retention Program and Bicknell, Utah-based Wayne Community Health Center created an educational film, The Day in the Life of a Rural Nurse, to demonstrate the importance of Utah's rural primary care community registered nurses.
Rural populations are significantly impacted by health disparity. RuralHealthInfo.org states that rural individuals are more affected by disease and disability, and demonstrate higher death rates, lower life expectancy, and increased rates of pain and suffering than their urban counterparts.
Registered nurses (RNs) and health care teams who work within rural communities play a paramount role in caring for these underserved individuals and families—from before birth to end-of-life, rural RNs provide necessary health services to all. However, it's not easy to recruit and retain rural RNs. There is a knowledge and skill gap related to rural health care, and limited pathways for students to enter the field of rural nursing.
"Health care services are often less available in rural settings, so preparing new nurses to work in rural settings is needed to continue to meet the needs of rural populations," said College of Nursing Professor Brenda Luther, PhD, RN.
In response, College of Nursing (CON) faculty obtained a US Health Resources and Services Administration (HRSA) Nurse Education, Practice, Quality, and Retention (NEPQR) grant to address the growing needs of Utah's rural populations by providing students and rural RNs with training to work at the full scope of their licenses in rural primary care. NEPQR provides online training modules within CON baccalaureate curriculum, scholarships and travel funding for student nurses to gain rural primary care clinical experience, and training for RNs working in rural primary care to precept students and advance their professional roles.
NEPQR forged a partnership between CON faculty and WCHC to place students in rural clinical experiences while supporting WCHC RNs with training and resources. However, not every student is placed in a rural setting for their clinicals. How could faculty best show students an accurate depiction of life as a rural RN without visiting the clinic? Through film. If students can envision themselves working in a rural setting, they are more likely to make it a reality upon graduation.
"The Day in the Life of a Rural Nurse is an authentic and realistic representation of rural nursing. For most undergraduate nursing students, understanding the role of a rural nurse is not possible to experience during their program and can be difficult to imagine," said CON Associate Professor (Clinical) Jennifer Macali, DNP, RN, MPH. "Not only will students have a clear understanding of the wide array of opportunities to serve as a nurse in rural communities, but they will gain a wider perspective how the health care system is connected across the continuum of care. This video is an invaluable educational tool that has the potential to change the career trajectory of a future nurse."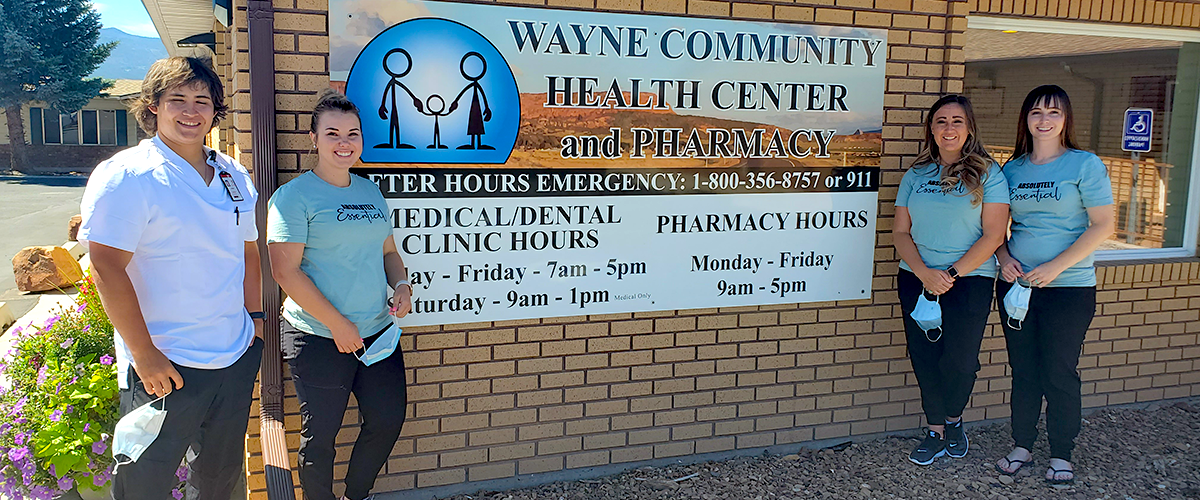 (Left to right: Hunter Robins, Josie Oyler, Josie Moosman, Alexis Taylor)
Josie Moosman, BSN, RN, works at WCHC and stars in the film. She and her team of health care professionals work at the top of their licensure within the clinic's team-based care model, and were instrumental in creating the film. The varied day of a rural RN is typical of the profession—all roles shown in the film are true to the roles Moosman plays each day. In one shift at the clinic, she can be seen completing a well-baby checkup, performing an annual wellness visit, arranging a patient's end-of-life care plan, covering emergency ambulance rides, or preparing an emergency patient for a helicopter transfer.
Moosman will continue her nursing education as she begins the CON's Doctor of Nursing Practice Program this fall—allowing her to provide even more community support as a nurse practitioner.
"I could not show students what it means to work in a rural community without the help of Josie and her team at Wayne Community Health Center. We teach student in our classes about the challenges rural communities face and help students learn all the skills to support patients and families to be healthy and optimally care for themselves; but we can't give students the whole experience in our usual clinical experiences," said Luther. "We want nurses to be prepared for rural nursing and want to work in rural settings; this grant and Josie's team have helped us do that."
Thanks to the NEPQR grant, The CON and WCHC now have a long-standing partnership. Through experiential education, WCHC allows CON students to gain experience within the field of community-based rural nursing, while learning about the importance of accessible health care for Utah's underserved communities. WCHC and the CON have also collaborated on delivering state-wide webinars advocating and educating about the crucial roles of RNs.
"Coming from a rural town myself, I am so thankful that the College of Nursing gave me the opportunity to go down to Wayne County for my clinical experiences. It was a privilege to be a part of the community and be taught by nurses truly setting the example for rural nurses," said Hunter Robins, BSN, RN, a 2020 CON baccalaureate graduate who participated in a WCHC clinical. "This experience really opened my eyes to everything a nurse can be, and how nursing can be effective in so many different environments. My time spent in Wayne County was one of my highlights of my education at the University of Utah."
The Day in the Life of a Rural Nurse aims to expand on the current work and partnership of the CON and WCHC. As CON students participate in clinical experiences at WCHC or view the film, they will learn the unique role of a rural RN—and hopefully become one.
Are you an RN interested in learning about the skills of a primary care nursing in a clinical setting? The CON offers free online modules about primary care nursing.